John F. Carr Collection at

St. Bonaventure University

FRIEDSAM MEMORIAL LIBRARY
Archives

Journalism
Collections
Information on John F. Carr's Writing Career
Education:
San Diego State University, Bachelor of Arts in History and Psychology with minors in English and Sociology and a Secondary Teaching Credential. 1965 - 1972
Published Books:
Unpublished Works:
The John F. Carr Collection holds a number of unpublished stories and novels by John F. Carr. Several of these works were written in collaboration with other authors. Camden Benares, who co-wrote several stories with Carr, has several items related to him included in this collection.
Anthologies: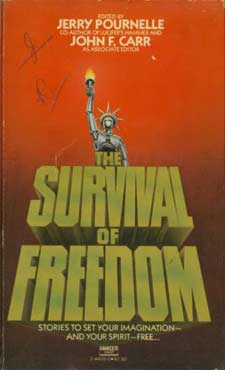 From February 1977 to April 1996 John F. Carr worked for Jerry Pournelle & Associates as Senior Editor. Working with co-editor Jerry Pournelle, he edited over 25 theme anthologies and short story collections, including the 2001 Prometheus Hall of Fame Award winner, The Survival of Freedom.
Anthologies Include
| | |
| --- | --- |
| | There Will be War (9 Volumes) |
| | War World (4 numbered Volumes + 2 Novels+ 1 other anthology) |
| | Imperial Stars (3 Volumes) |
| | Endless Frontier (4 Volumes) |
| | |
| | |
| | |
| | |
| | |
Planned anthologies that were never realized.
Other Material collected for Anthologies
Many of the early volumes of the War World series will reprinted by Final Sword Productions. The first of these reprints is War Worlds: Beginnings, which John F. Carr is currently working on.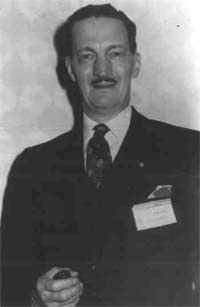 John F. Carr is a recognized authority on the life and works of H. Beam Piper, whose picture is shown to the left. H. Beam Piper was a well known science fiction writer in the 1950s and 1960s. John has edited and written the introductions to five H. Beam Piper story collections:
Federation, Empire, Paratime, The Worlds of H. Beam Piper and The Complete Paratime.
His latest contribution is the long-awaited Piper biography, The Last Cavalier: H. Beam Piper. The first except of this biography appeared in the January 1988 issue of Analog. John F. Carr also has written three sequels to H. Beam Piper's Lord Kalvan of Otherwhen.
Home Archive Collection Camden Benares Lord Kalvan Pictures Writing Career Related Links

Friedsam Memorial Library Home Page
The St. Bonaventure University Home Page
Page created by Kyle Wimann Spring 2008.
Updated by Ellen Winger Fall 2008.
Updated by Jason Mahar Spring 2013
Last Updated: 04/26/2013