Against Freshman Rules
These are comment people had to make against the freshmen rules program, as seen in the Bona Venture [BV], the school newspaper.
[Freshmen] Lived in utter misery, no personal dignity
"Hazing in the minds of the second year men means only idiotic laughter, but in our minds, it means satisfaction for we know that we are the men of Saint Bonaventure, not the sophs"
We, the Frosh, BV, September 27, 1940
"Jack McMillen Writes Freshmen Rules Missing Target, Change Them!"
Fail to make "Bonaventure Men" out of high school boys
Monday night, went to Butler, saw them have two hundred freshmen boys in gym for training, didn't want to stay there
Do they embrace principles of Catholic University
Professor refused to teach if rules dragged out...he does not teach here anymore
Diving for pennies in Devereux fountain for punishment
BV, October 10, 1952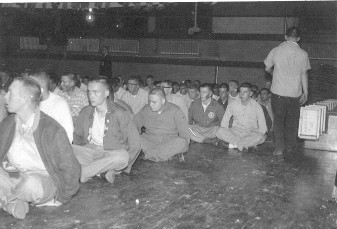 Freshmen Meeting in Butler Gym.
Freshmen Folder, Saint Bonaventure Archives.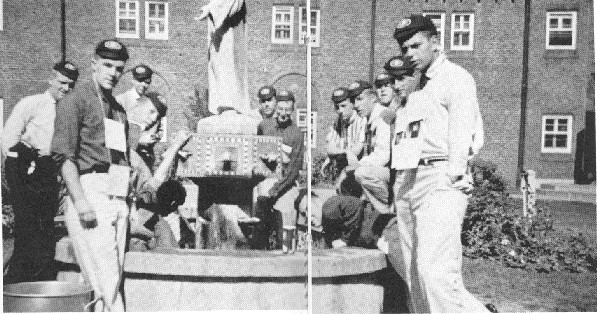 Freshmen "penny diving" in the fountain outside of Devereux Hall. Punishment for not obeying freshmen rules. 1959 Yearbook, page 116-17.
Deteriorate reputation of campus
Waste of time applying "communist techniques" to poor freshmen
Rules are Hit, Letter to Editor-Reverend Richard F. Fitzgerald, BV, October 24, 1952
I maintain that hazing of any sort, and rules as presently employed, do not accomplish this positive end; that the onetime principles behind freshman regulations are no longer seriously considered and that the Bonaventure man is the product, exclusively, of other influences. [The author goes on to support Freshmen Rules in a revised form.]
McMahon, Tom. Editors' Soapbox BV November 11, 1955: 2.

What were some positive comments people had to say?
What were some negative comments people had to say?
Additional Information About Rules
Bibliography, Links, Author and Acknowledgements

Last updated: 02 March 2006