Saint Bonaventure University

Freshman Rules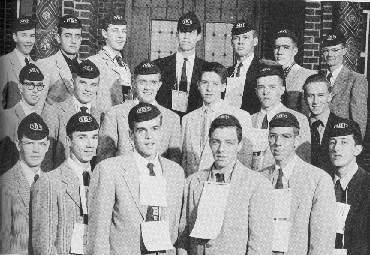 1954 Yearbook, pg. 97
What is a dink?
Have you ever had to wear a nametag....all the time?
Were you ever told where you could and could not walk?
Why would you have to carry matches for someone else and not be allowed to smoke yourself?
What are these boys wearing?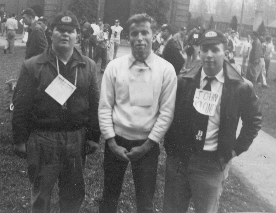 Picture from Archives' Freshmen Folder
The answers to these questions form part of the history of student life at St. Bonaventure University. They are related to the rules that Freshman classes followed to help them absorb the spirit of the "Bonaventure Man". These rules were part Freshman life on campus for over 40 years.
Campus life in general was much more restrictive than it has become in the first half of the 21st century. Take a look at the 1878 Rules and Regulations of St. Bonaventure's College to see how strict life at the college was in the 19th century. Later student handbooks show the evolution of student life on campus, but this site concentrates on the lives of freshmen classes as reflected in those handbooks.
The first student Hand Book in the Archives' collection, other than the 1878 handwritten item noted above, is the 1922 edition. The first to include "Freshman Rules" is the 1925 edition. These rules are quite detailed; the list is quite lengthy. They include rules for the clothing freshmen could wear, limitations on freshman access to certain places on campus, and requirements for the performance of some activities and prohibitions for others. Violations were punishable by the Student Senate. There were certain days when the rules were in abeyance, there were meetings that all the freshmen had to attend, and there were initiations. All of this was intended to help the freshmen become "Bonaventure Men."
During the 1940's, the rules were quite strict and the punishments were severe. As time went on, the rules became more relaxed, dealing more with traditional rules, such as information that the students needed to know, and there became fewer of them, until they eventually became non-existent.
There are some student handbooks missing from our collection, so it was hard to know precisely when some changes were made.
This site relates the rules for the years they're available, changes in those rules, and also includes pictures of the rules in action, and comments from some of the participants. My own comments, summaries, or analysis of the material on each page appears in the boxes.
What were some positive comments people had to say?
What were some negative comments people had to say?
Additional Information About Rules
Bibliography, Links, Author and Acknowledgements

This site is based on material put together by Beth McCarthy for History 210: Computer and Archival Skills for Historians, in the Spring 2001 semester. Any changes, other than minor editing are noted.

1878 Rules added 3/18/2005 by D. Frank
1920 page added 3/21/2005 by D. Frank
1930 page added 3/21/2005 by D. Frank
Last updated: 02 March 2006



For information about the Archives' collections contact:
Archivist

(archives@sbu.edu)
telephone: 716.375.2322
Home page
Friedsam Memorial Library
St. Bonaventure University
St. Bonaventure, NY 14778 USA
(716) 375-2323 (general number)
(716) 375-2389 (fax)
http://www.sbu.edu/friedsam