Their Roles at St. Bonaventure University
This site is dedicated to providing some background information on a part of St. Bonaventure history about which little is known. While some may view cheering on your team as a cheerleader and riling up the crowd as a mascot as insignificant, they have all played an important role at this school. They have had ups and downs, setbacks and improvements, and changed in many ways with little recognition. The cheerleaders and the mascots of St. Bonaventure have come a long way. Their stories will leave you amused and a little more informed.
2007-2008
St. Bonaventure Cheerleading Team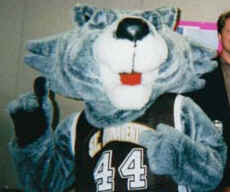 2
St. Bonaventure's
Newest Mascot
The Bona Wolf
---
This site originated as part of Computers and Archives in History, Spring 2001. It was designed by Lynette Abney for that class and revised and updated by archival assistant Jessica Bunting in the 2007-8 academic year.
Created: 3/17/2008
Last updated: 03/18/2008