1940-1950s
From the Timeline:
1942- Women first admitted as Day students; First full time Day woman was Mary Jacqueline Shortell Fox
1943- Six women graduated (First Day student graduates); They were, Mary D. Quinn, Mary Shortell, Dorothy M. Sain, Mary E. Sweeney, Margaret C. Fane, and Rita Ballard.
1947- Women students appear in the Bonadieu.
1950- Women Coeds first hazed.
1955- First Female cheerleaders
1957- First female faculty member, hired in Philosophy, Sr. Mary Anthony Brown OFS. Sr. Mary Anthony had taught in the St. Elizabeth Teacher Training School from 1951-1956. The St. Elizabeth Teacher Training School was made a part of St. Bonaventure in 1957 and was renamed, St. Elizabeth's Teaching College.
Women's Council
The St. Bonaventure Women's Council began in the 1944-1945 school year. It was the first women's group on campus and was formed to help, "facilitate the handling of affairs for the new women's group on campus." The original purpose of the Women's Council was to help women students gain full scholastic recognition because the College did not intend to become co-educational. This is highlighted by an article in the Bona Venture from October 20, 1944, "Since the attendance of women students in day-time sessions of classes is only a temporary wartime measure, and necessarily temporary, it would not be feasible to alter the status of the college."
The first officers of the Women's Council were:
President: Mercedes Barry
Vice-president: Elizabeth Wintermantel
Secretary: Eileen McRae
Treasurer: Helen Reedy
Freshman Advisor: Theresa Hughes
The St. Bonaventure faculty advising the Women's Council were:
Fr. Peter A. Carr, Dean of Discipline
Fr. Finabar A. Dowd, Assistant Dean
Fr. Christopher Coyne, Spiritual Director
List of Officers, Number of Members, and some social events for 1946-1950.
1946-1947 Total of 43 members
President: Theresa Hughes
Vice-president: Lillian Vales
Secretary/Treasurer: Marian Atwood
Frosh Advisor: Grace Paollilo
Social Advisor: Patricia Thomas

Social Events:
November- "Pigskin Shuffle" in honor of the football team. Music was
provided by Al Cecchi's orchestra and admission cost $.85.
December- Christmas Party. Dinner at the Castle Restaurant.
January- Freshmen initiation party in Alumni Hall.
May- Luncheon at the "Mirror Room" during Prom weekend.
Admission was $2.75
1947-1948 Total of 24 members
President: Lillian Vales
Vice-president: Ann Clare
Secretary/Treasurer: Patricia Thomas Rossman
Frosh Advisor: Mary Low Truax
Social Advisor: Mary Morton
1948-1949 Total of 27 members
President: Maria Marra
Vice-president: Mary Morton
Secretary: Patricia Daluiso
Treasurer: Gladys Finger
Social Events:
October- Halloween Party on October 22nd. (Pictures Below)
November- Raffle to raise money for the Women's Council, the prize was
a Crosby Portable radio with batteries.
December- The Third Annual Pigskin Shuffle in the campus ballroom, with
dancing to Al Cecchi's orchestra. A Christmas party.
May- Dinner at the Castle Restaurant.

Pictures from the 1948 Halloween Party:
This party was held in the home of the Marra girls who appear in the pictures below, they lived on North Union Street in Olean, NY.
G. Finger and J. Madison
Teresa and Mary Marra
Mary and Joan Morton
Jane Madison and Joan Morton
Background: G. Finger, M. Whelan, J. Madison
Foreground: M. Morton and P. Daluiso
Standing: G. Fote
Kneeling: Back row; Lil Vales, Gloria Vales. Front row: Betty Reiher, Madge Lewis, Rita Chamberlain, Joan McGranaghan, Gladys De Lige
Back row: Gladys Finger, Mary Morton, Joan Morton, Jane Madison
Third Row: Joan McGranaghan, Margie Whelan, Mary Sader, Patti Daluiso
Second row: Betty Reiher, Gladys De Lige, Rita Chamberlain
Front row: Gloria Fote, Maria Marra, Madge Lewis, Teresa Rose Marra
Also from the 1948-1949 academic year, an article from the Bona Venture. Notice the second bullet, which announces the winner of the prize given at the Women's Council's Pigskin Shuffle.

1950-1951 Total of 33 members
President: Marjorie Whelan
Vice-president: Gladys De Lige
Secretary: Mary Wagner
Treasurer: Sheila Dipon, replaced by Bessie Pappas
Frosh Advisor: Mary Freaney
Assistant Frosh Advisor: Patricia Cronin
Special Events:
October- Incoming women freshmen are to "Take Rules," (see below). A
raffle was held, prize was $25. A party was held at the Golf Club, there
was a buffet luncheon and dancing.
December- The 5th annual Pigskin Shuffle was held on December 9th, from
9:00-1:00 at the Christopher Columbus Lodge. Music was by Al Cecchi.
In 1950 Freshmen girls began to take "Rules," which they had previously been exempt from. Below is the Bona Venture article announcing the news to the Bonaventure community.
October 1950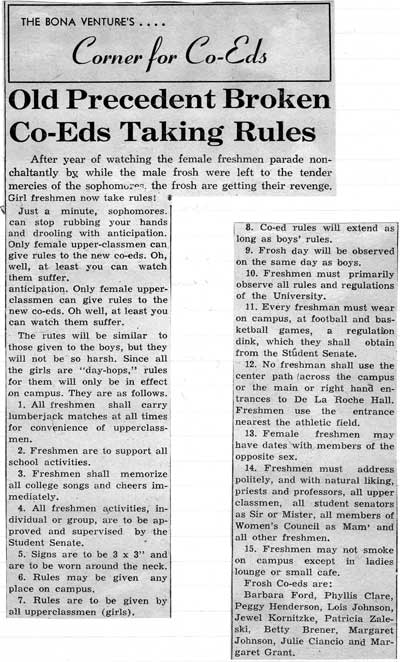 More Happenings in the 1940s:
1944, December 1st. "Ideal Bona Girl is Chosen"
The winner was "The very lovely young Miss...Phyllis N. Gerard of Bloomfield, NJ." Miss Gerard was 18 years old and her picture was submitted by Jay Ohland of Section 3, her "Sweetheart". The prize awarded to Miss Gerard was a compact engraved with the St. Bonaventure seal. Miss Gerard entered college that Fall to study interior decorating.
An honorable mention was given to Miss Marjorie Lotz, 16, of Seneca Falls; who was the runner up. Her picture was submitted by Edgar E. Blacklund of Section 5. Miss Lotz graduated from Mynderse Academy, where she was chosen prom queen, in June and was attending Albany Teacher's College.
| | |
| --- | --- |
| | Three new Bonaventure women appeard in The Bona Venture issued on Friday, October 7, 1949. In 1949 fourteen new women enrolled at St. Bonaventure, making this the largest number of incoming women students since September 1942. The new co-eds were: Sheila Dixon, Mary Wagner, Jeannette Hennigan, Jean Zacharias, Audrey Kruzynski, Ruth Fromholzer, Betty Callahan, Pat Cronin, Rita Kakol, Ruth Cravin, Shella Weir, Mary Freaney, Lucille Moore, and Theo Ellison. |

Visions from the Bonadieu
Women Students, 1944

Members of The Bona Venture, 1947

The Drama Club, 1947

Women's Council, 1947

Graduates of 1947

Graduates of 1948

The Bonadieu, 1948
Women's Council, 1948

The Bona Venture, 1948

Drama Club, 1952

Student Activity Council, 1952

Women's Council, 1952

Women's Association, 1958

The Bonaventure editor for 1958

Cheerleaders, 1958

The Off-Campus Club, 1958
04/23/2008