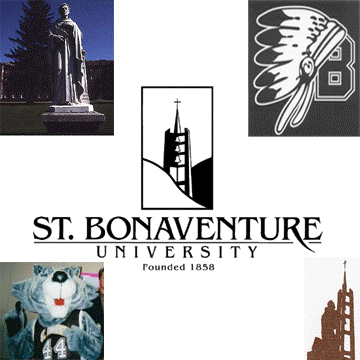 The campus at St. Bonaventure University is one containing the sights, symbols, and themes of nearly a century and a half of tradition. Everything from the Habits that the Friars wear, to the Bona Wolf, is full of history and symbolism. This page is here to serve anyone who wonders, "What does that mean?" or "Were did that come from?." The images that have represented St. Bonaventure have changed and evolved in many respects. The long tradition of Brown and White is one of the few that has remained a constant in the representation of St. Bonaventure University. The research presented throughout these pages comes from hours of work in the archives at the University's library, interviews with Br. David Haack and countless bits of information from the Athletic and Public Relations departments at St. Bonaventure University.
Links Related to this Page
St. Bonaventure University Chapel
The History of Saint Bonaventure Football



Page created by David Patt; St. Bonaventure University, for History 419 Digital History and Archival Practices, instructed by Dr. Phillip Payne and Archivist Dennis Frank and held in the Fall 2003 semester. Any opinions expressed in these pages are those of the author. Any changes, other than minor editing, are noted at the bottom of the relevant pages.
All sources are used with permission from St. Bonaventure University and are found in the bibliography.
Information provided is intended for academic use and is property of St. Bonaventure University
.


For information about the Archives' collections contact:
(archives@sbu.edu)
telephone: 716.375.2322
Friedsam Memorial Library
St. Bonaventure University
St. Bonaventure, NY 14778 USA
(716) 375-2323 (general number)
(716) 375-2389 (fax)
http://www.sbu.edu/friedsam
Site brought up 12/17/2003
Last updated: 01/20/04
Please direct comments to the library webmaster