Builders of the Friedsam Collection
A History of the People, Important to Building the Collection of Friedsam Memorial Library
Dorothy Godfrey Wayman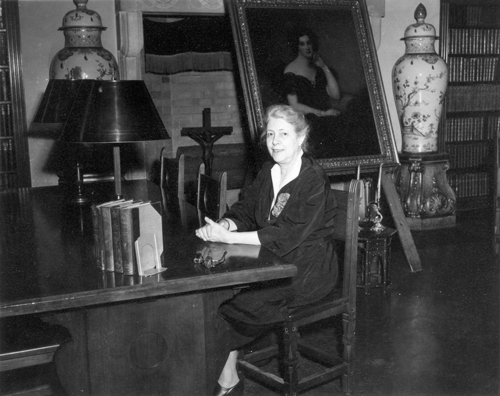 Dorothy Godfrey Wayman was a reference librarian for Friedsam Memorial Library from the summer of 1955 to 1962. Wayman had an interesting career prior to working as a librarian for the school. For over twenty years, Wayman was a journalist who served as an editorial staff writer and foreign correspondent for the Boston Globe. Not only was she a journalist but also she was the author of several books and articles for magazines such as The Saturday Evening Post and Atlantic Monthly.
Wayman was born in San Bernardino, CA on a citrus ranch on January 7, 1893.<![if !supportFootnotes]>[1]<![endif]> Raised by non-Catholic parents, she was sent to a Catholic school, Mount Saint Mary Academy in Manchester, NH for a better education.<![if !supportFootnotes]>[2]<![endif]> Here, she gained an interest in Catholicism, but did not convert. She converted later in life, thanks to an errand boy who gave her a medal of St. Benedict. The medal she received instigated a curiosity towards Catholicism. She attributed much of her journalistic and writing success to Mount Saint Mary, stating that, "for better or worse, my writings, my books of the past 30 years are the product of an education at Mount Saint Mary." <![if !supportFootnotes]> [3]<![endif]>
Wayman started her career as a journalist after the death of her husband in 1923. Wayman, along with her husband and children, lived in Japan for four years until an earthquake struck, killing her husband. While in Japan, Wayman learned to read and write Japanese, showing her talents as a quick learner and adaptability.<![if !supportFootnotes]>[4]<![endif]> The death of her husband was a critical point in her life. She was left penniless and in charge of three young boys. A friend's encouragement to pursue a journalistic career helped her to make the choice to go in that direction.
As a journalist, Wayman encountered many important people. She met famous politicians, world leaders, and so on. She also began writing books such as An Immigrant in Japan (1926), Edwards Sylvester Morse: A Biography (1942), and Bite the Bullet (1948). She received a gold medal from the French Institute of Letters for her book, An Immigrant in Japan.<![if !supportFootnotes]>[5]<![endif]> Bite the Bullet, a memoir, also received a lot of positive attention. These books were authored under a pseudonym, Theodate Geoffrey.<![if !supportFootnotes]>[6]<![endif]> This name could have been chosen for various reasons, probably to encourage a larger population to read her books. In 1954, Wayman received an honorary degree of Literature from Holy Cross College.
The following year she became a reference librarian for St. Bonaventure University. Wayman and Father Irenaeus Herscher, O.F.M were good friends before she came to work at Friedsam. They exchanged letters, often on work and related topics. She started at the reference desk in the fall of 1955. For the next seven years Wayman worked with students and faculty, but one of her most important jobs involving the library was her work with the rare books collection. Wayman did a lot of research for various books in that collection. She translated and wrote up summaries. Her work sometimes went above and beyond normal expectations to discover the history of some books. She not only worked on researching books, but with other artifacts and pieces of art as well. At one point, she even wrote a 54-page manuscript for St. Bonaventure's publication of a handbook for the Friedsam Library Art Collection.<![if !supportFootnotes]>[7]<![endif]> She was very happy at her position, letting Father Irenaeus know, "I am sure you are well aware how much I enjoy the work, the association with the rest of the staff, and surroundings at Saint Bonaventure University."<![if !supportFootnotes]>[8]<![endif]>
Towards the end of her career at St. Bonaventure, Wayman suffered a health scare, contracting pneumonia, which sidelined her for almost a month. She recovered and was back to work for two more years. She retired in the summer of 1962, receiving a special dinner in her honor on August 13, 1962. Although she retired from St. Bonaventure, she in no way retired completely. She continued working as a journalist for the Olean Times Herald, often writing about the history of the Olean area and community. In 1964, She ran for the Olean Board of Education, using, "I am non-partisan—not 'teamed' with any other faction," as her slogan.<![if !supportFootnotes]>[9]<![endif]> She won, but did not run for a second term.
Wayman continued to write for the Olean Times Herald until her death on October 27, 1975 at the age of 82.<![if !supportFootnotes]>[10]<![endif]> She left behind an interesting and colorful life, one full of excitement and achievements. Throughout her life, she received multiple awards, honors, and recognition for her work as a journalist and author. She was a commencement speaker for St. Mary's College, was awarded the gold medal by the French Institute of Letters for her book, An Immigrant in Japan, and received a special Papal Blessing from Pope John XXIII. Wayman's life is a testament to hard work and tenacity. A female journalist, an unrealistic career path for many women at the time, she did not let this obstacle discourage her. She succeeded, becoming a prominent journalist and also part of the Saint Bonaventure community.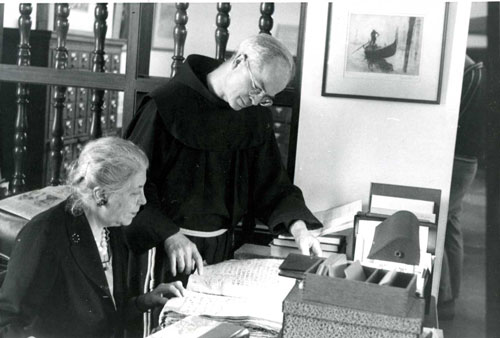 Dorothy Wayman and Fr. Irenaeus Herscher, O.F.M.
---
For more information about the Archives' collections contact:
archives@sbu.edu
telephone: 716.375.2322
Archives home page

Friedsam Memorial Library
St. Bonaventure University
St. Bonaventure, NY 14778 USA
(716) 375-2323 (general number)
(716) 375-2389 (fax)
http://www.sbu.edu/friedsam
Last updated: 12/19/12