Builders of the Friedsam Collection
A History of the People, Important to Building the Collection of Friedsam Memorial Library
Colonel Michael Friedsam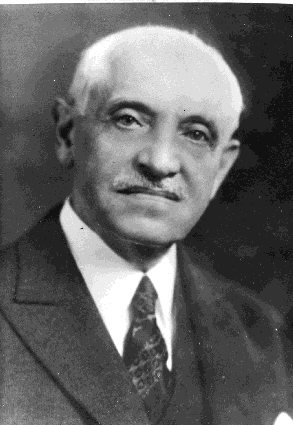 Colonel Michael Friedsam is the man for whom Friedsam Memorial Library is named. Born on February 10, 1858*, in New York City, Colonel Friedsam is most well known as a philanthropist, an art connoisseur, and for his civic, social, and educational involvement. As a youth, Friedsam studied in the New York City Public Schools, and later attended Westar Military Academy in Westar, Connecticut.
Following his education, Friedsam returned to New York, and began to work for B. Altman & Co.. While working there, Friedsam developed a very close relationship with the president of the company, Benjamin Altman, and became manager. After Altman's death in 1913, Friedsam succeeded him as president of B. Altman & Co., as well as the Altman Foundation, a charitable establishment which received most of Altman's estate. Beyond all of this, Friedsam was named as heir and associate to Benjamin Altman and received his library, some of his paintings, and his home. The rest of his collection was given mainly to the Metropolitan Museum of Art and to the Brooklyn Museum.
During World War I, Michael Friedsam served as Quartermaster General of the New York State Guard, where he gained the title "Colonel." In 1921, upon the request of president Warren Harding, Friedsam spent months in Europe, reporting on the continent's commercial and economic conditions.
Colonel Michael Friedsam also had a very special interest in education and donated much of his time to the task of improving the New York Public Schools. In 1923, Friedsam was named Chairman of the Commission to Report on the Public Schools of New York by Governor Alfred E. Smith. His work helped to provide assistance to the schools, since he developed and promoted the Dick-Rice Bill, which provides millions of dollars in state aid to public schools. Upon his death, April 6, 1931, Colonel Friedsam's fortune was left in trust, "for the care and education of the young and the care and comfort of the aged." And, although Friedsam was Jewish, this statement reflects some of the ideals held dear by the Order of Franciscans, found in Roman Catholicism. Hence in accordance with Colonel Michael Friedsam's request, the trustees of the Friedsam Foundation gave $125,000 for the construction of a new library building to St. Bonaventure University, a Roman Catholic and Franciscan institute, and later donated many pieces of Friedsam's personal art collection.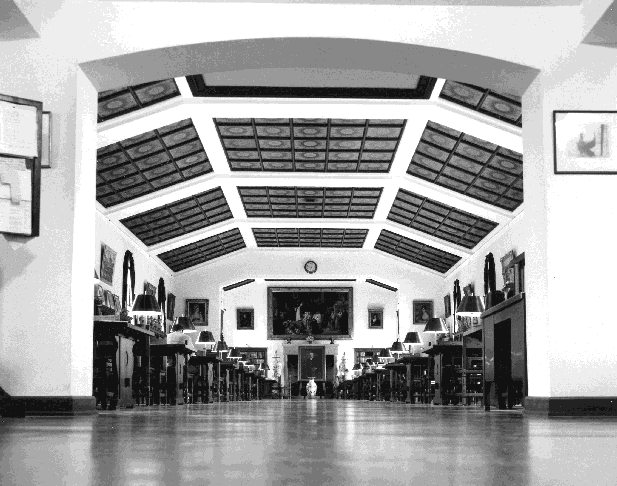 Front Reading Room inside Friedsam Memorial Library
*Col. Friedsam's birth date is reported as being 1860 in the dedication program for the library and in other sources which quote that program. However, he's listed as age 13 in the 1870 census and as 23 in the 1880 census which makes 1858 the more likely year and it is used in a variety of other sources outside the university.
---
For a more complete history of Friedsam Library follow this link.
***Page created by Bradley Naughton, St. Bonaventure University***
***Created for History 419 (Computer and Archival Skills for Historians) instructed by Dr. Philip Payne, and archivist, Dennis Frank***
***Information provided is intended for academic use and is property of St. Bonaventure University***
Last updated: 12/19/12
--8/22/08--Friedsam birth date updated