John F. Carr Collection at

St. Bonaventure University

FRIEDSAM MEMORIAL LIBRARY
Archives

Journalism
Collections
The Belly River Riddle
by John F. Carr
(unfinished & unpublished to date)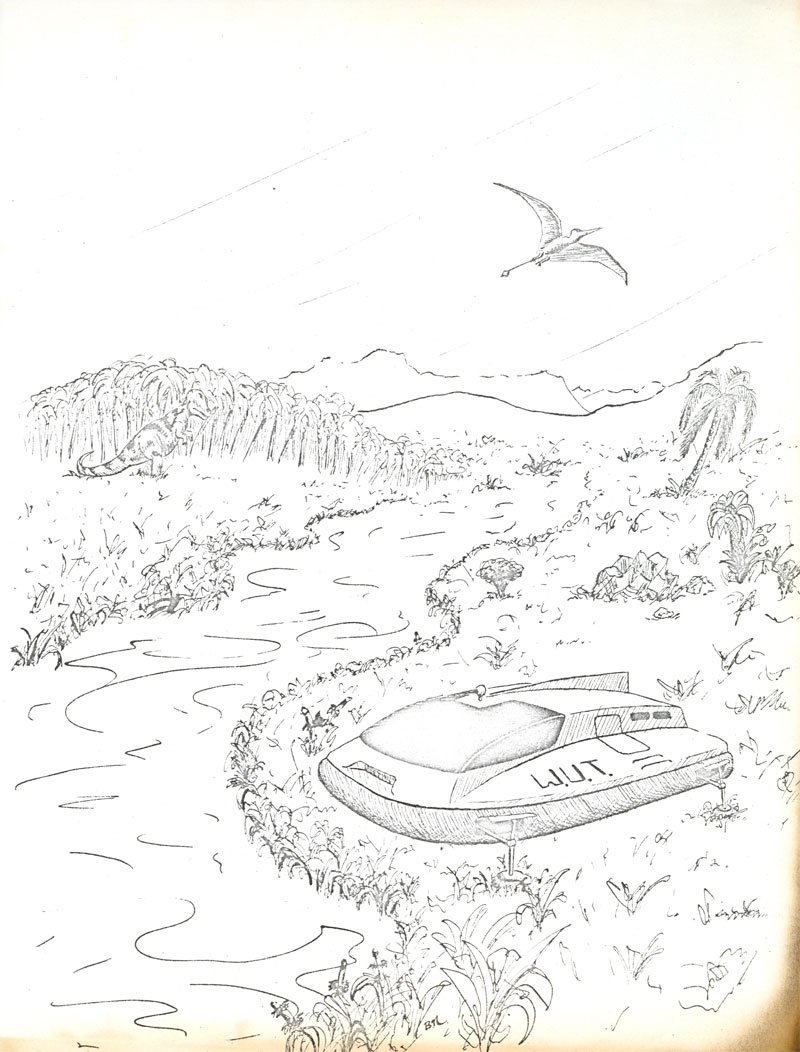 The Belly River Riddle is a novel that John F. Carr planned and began to write, but it was never finished nor published. The John F. Carr collection contains Carr's original pieces of research for the novel, as well as his original notebook outlining the plot and chapters of the novel. The collection also contains what is perhaps the only surviving manuscript of the work, which consists of four completed chapters, fourteen chapter summaries, and three original illustrations by Bob Naylor. An image of one of these illustrations appears above.

Archival Holdings
The Belly River Riddle [loose paper]
14 pages
Carr-04-11
Physical Description:
The original folder containing these pages was labeled "The Belly River Riddle (Dinosaur Graveyard)-(The Hell creek Catastrophe)."
-The contents include one page from the May 17th, 1976 TIME magazine. (Page 57-58) One of the main articles in the magazine cut out is a story labeled "Hot-Blooded Dinosaurs?"
- The second and last item in the folder is 13 pages photocopied from the book "Dinosaurs: Their Discovery & Their World" by Edwin H. Colbert.
The Belly River Riddle [spiral notebook]
22 pages
Carr-04-12
Physical Description:
The cover description of the green notebook is "dri-point Theme Book. In black pen written across the top of the cover is "Belly River Riddle." Each page in the notebook is a rough draft or summary of the chapters written in pen. There are side-notes on almost every page going along with the chapter summaries.
The Belly River Riddle [typescript]
Carr-06-09
64 leaves
Physical Description:
The typescript of one of John F. Carr's unpublished works, The Belly River Riddle. Approximately 64 pages, including 3 illustrations by Bob Naylor. The work is 18 chapters long, but only the first 4 chapters are completed. The rest of the chapters are represented by one-page summaries. The pages are discolored and the edges charred from fire damage.
Home Archive Collection Camden Benares Lord Kalvan Pictures Writing Career Related Links
Page created by Ellen Winger Fall 2008.
Last updated: 04/26/2013