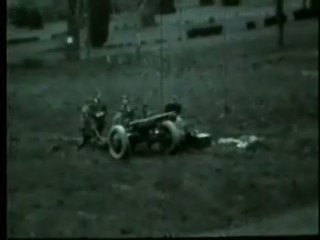 Click Photo for Video of an artillery demonstration on the campus golf course
On Campus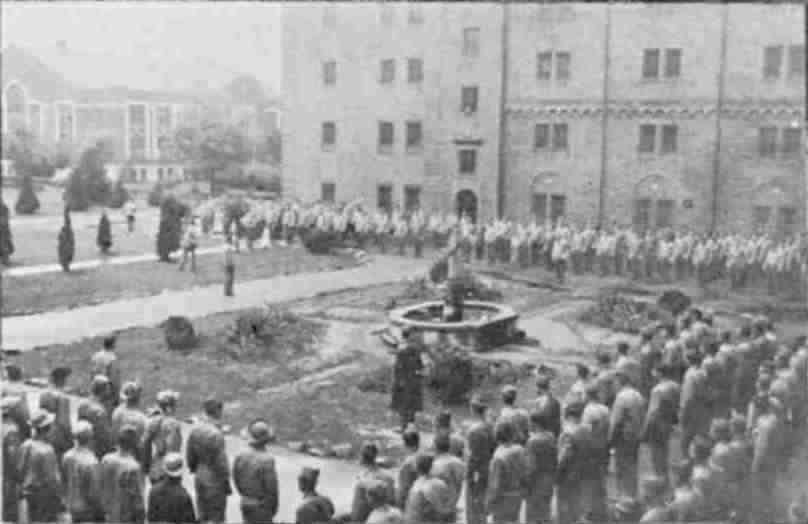 With the outbreak of war, life on the St. Bonaventure campus changed drastically. With the introduction of the Army Specialized Training Program, St. Bonaventure was considered an army camp and the rules were enforced as at any army camp. Uniforms were to be worn at all times, unless instructed otherwise. Trainees in the program were expected to stay on campus unless given passes for a leave. With the arrival of troops in 1943, the surrounding communities of Olean and Allegany aided immensely in the soldiers' assimilation to St. Bonaventure and its surroundings. Dances and socials were held at the Olean YMCA and American Legion to offer a brief respite to the men who were training for war.
The buildings in the photos below were the barracks constructed to house the extra service men stationed on the St. Bonaventure campus. In the photo on the right you can see Butler Gymnasium and the roof of De LaRoche
Because of the implementation of the war programs at St. Bonaventure many student activities were temporarily discontinued at St. Bonaventure:
Glee Club- The Club, which was very active in giving performing throughout the region, was forced to discontinue all concerts in New England and the Mid-Atlantic states.
The Year Book- Because of enrollment drops the year book was discontinued temporarily replaced by the Bonastu in 1944. This was published by members of the training programs.
Intercollegiate Athletics- All sports at St. Bonaventure, as in other schools, were cancelled until further notice. At this time St. Bonaventure had a football team and some St. Bonaventure historians have said that this discontinuation of athletics eventually led to the permanent termination of the football program at St. Bonaventure.
The Laurel- The on campus publication was temporarily discontinued just like the year book because of a lack of personnel.
Women at St. Bonaventure- Before World War II women were only allowed to take night classes at St. Bonaventure, or to participate in summer programs, and even that was a rarity. With the outbreak of war, women were finally admitted as undergraduate day students. This was the first time in the eighty-four year history of the school that this was allowed. The reason for this was the rapid decrease in enrollment in 1942. On April 18, 1943 six women joined the men to receive degrees, the first co-eds to participate in commencement exercises at St. Bonaventure's College. This was intended be a temporary change, but once adopted it became permanent. Originally designed as a solution to declining enrollment this quite literally changed the face of St. Bonaventure for the years to come.
-------------------------------------------------------------------------------------