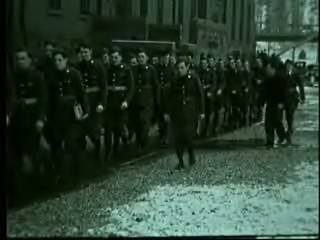 Click Photo for Video of students marching in front of De LaRoche
When the United States entered World War II, St. Bonaventure's College made facilities available to the government for use towards the war effort. This website is dedicated to the changes that occurred at St. Bonaventure because of the war.
In 1941, when the United States entered the war, there was not an immediate increase in people leaving campus to go to war. By September of 1942 the administration had decided to allow students to take more than the usual fifteen credits in order to complete their studies earlier. By the Spring of 1943 enrollment had dropped significantly as students were drafted. St. Bonaventure kept its doors open especially for the United States Government and any military training program it saw fit to implement on the Bonaventure campus.
Throughout the war years St. Bonaventure made many changes to adapt to the country's needs. Many extracurricular activities were discontinued with the outbreak of war, as the campus adopted a military lifestyle. Women appeared on campus as day students. And life on campus continued to change into the postwar period when servicemen returned to college.
---------------------------------------------------------------------------------------------------
Sources:
Angelo, Mark V., O.F.M. The History of St. Bonaventure University. St. Bonaventure, NY: Franciscan Institute, 1961.
St. Bonaventure University Archives. World War II, Student Affairs
---
This page was created by Kevin Lawless as part of an class during the Fall 2006 semester. Any changes, other than minor editing, are noted at the bottom of the page. For more information about the St. Bonaventure Archives collections contact: archives@sbu.edu
---
Last edited: 03/28/2007 12:41:44 PM
Reminiscences page added 3/28/2007 by D. Frank