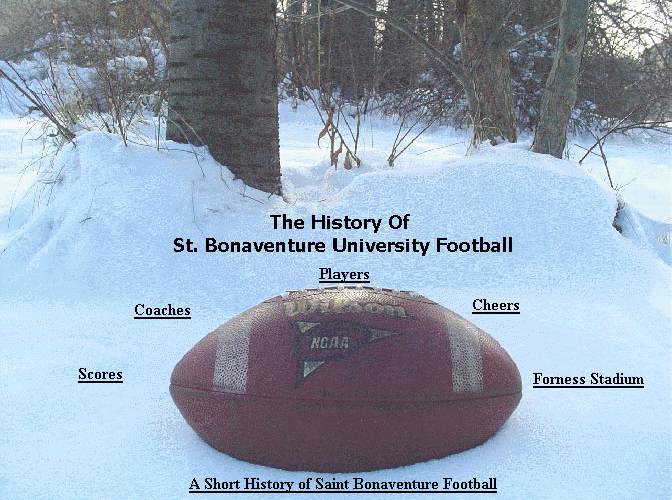 A Short History of Saint Bonaventure Football
Most of the information for this history is paraphrased from Mark V. Angelo's The History of Saint Bonaventure University.
Page references are noted parenthetically.
Football, which looked a lot like soccer in those days, first appeared at Saint Bonaventure in 1890. The football association had three teams, one for each department: the Post-Graduate, the College, and the High School. This established an intramural program.
The first game we have a record for occurred on Thanksgiving Day, Nov. 24, 1892. A team came down from Toronto and special trains were run from Olean, Bradford and the surrounding community to bring in spectators. Excitement grew as the Toronto team sent word that they were bringing the best players they could find, even adding some of the best men from another area team. After a close fought game, the college team came out on top, 2-1. (207-8)
1893 saw the first listing of modern American football positions for the players in the college bulletin. The intramural program continued between the various classes, but no intercollegiate play is noted between the mid-1890's and 1903. On Sept. 17th of that year, Father Joseph Butler, president of the college, found an overwhelming majority of the students in favor of reinstating a varsity, or intercollegiate, team. William Delaney assumed the position of coach, and a schedule of games with collegiate, semi-professional and independent teams was established. (212)
1906 was a stellar year for the program. The Saint Bonaventure team was undefeated and their opponents had been unable to gain a first down! The 1909 season again saw an undefeated Brown and White team with no one scoring against them. Coaches during this period were: William Burke, 1905; C.F. Collins, 1907; T.P. Neary, 1908; D. Pickett, 1911; R. Eustace, 1915; James A."Shine" McLaughlin, 1915. (212)
With McLaughlin's assumption of the coaching reins, the intercollegiate program began to firm up. The opponents comprised a variety of local colleges with a major rivalry developing between St. Bonaventure, Canisius, and Niagara, the three Catholic men's colleges in western New York. These institutions formed the Little Three Conference and this expanded to include all of their intercollegiate sports. Games were played on campus until 1928, when 10,000 seat Bradner Stadium was built in Olean. The first Brown and White game was held there against Niagara, Nov. 17, 1928. The local team won, 25-8.
(212-3)
The coaching position continued to change through the 1920's. Alfred Carmont followed McLaughlin in 1922, and then Glenn Carberry (1922) and Fred Oestergren (1924) took on the job. In 1930, Carroll "Mike" Reilly took on the positions of football coach, baseball coach, basketball coach and director of athletics. He remained in these slots until 1943, when World War II interrupted the sports program. Saint Bonaventure had some success during these years, with winning seasons in 1931, 1932, 1933, and 1935. 1935 also saw halfback "Clem" Faust selected as a Little All-American.
(213)
Oct. 7, 1939 was notable as the first time a major St. Bonaventure sports event was televised. Played against Manhattan College, the Brown Indians went down to the Jaspers 6-0. Perhaps they were distracted by video equipment which broadcast the game to 400 TV sets in the metropolitan New York City area. Sportscasters Bill Stern and Mel Allen called the game for station W2XBS, sponsored by NBC. It was the second telecast football game, following a Fordham and Waynesburg (PA) game the previous week. (Wallace, 68)
After the war, enrollment increased significantly and there was a push for Saint Bonaventure to join the ranks of "big time football." To this end, Hugh Devore, a former All-American from Notre Dame and a former coach of Providence College, was brought aboard to direct Bonaventure's program. The other significant event was local businessman and former mayor Fred Forness' announcement of a donation of up to $100,000 for a new stadium on the Saint Bonaventure campus. While Forness Stadium was planned to be substantially bigger than Bradner Stadium in Olean, it ended up with a similar number of seats. This was somewhat disappointing, but was reported to result from time constraints with a football season looming in the near future. (Knott, 7)
The first game was played in Forness Stadium on Sept. 28, 1946 against Youngstown. St. Bonaventure lost 20-14, not an auspicious opener, but, fortunately, misleading. Over 35,000 spectators watched the Brown Indians beat Canisius College at a game played in Buffalo to decide the Little Three Championship. 1946 also saw the only post-season game in St. Bonaventure's football history. The team met Muhlenberg College in the Tobacco Bowl at Lexington, Kentucky, and was defeated 26-25. (213)
Click on Photos to view video of St. Bonaventure Football games
St. Bonaventure quarterback Chris Scaturo connects on an 38 yard pass to Frank LoVuolo. Scaturo then throws an 11 yard touchdown pass to George Hays in the endzone.
Boston College returns a kickoff for a touchdown against St. Bonaventure
These clips were taken from game film from the 1948 meeting of St. Bonaventure College vs. Boston College. St. Bonaventure is the away team and wearing white jerseys. The final score of the game was a 7-7 tie despite Boston College being the overwhelming favorite.
This era saw Saint Bonaventure use the Notre Dame model as they attempted to move into the upper ranks of college football. They searched for bigger and better opponents, and moved some of their games to Buffalo to build their fan base, and to take in a bigger "gate". Financing the team was a problem, so the larger venue of Buffalo's Civic Stadium provided more income. (Knott, 7)
The team prospered on the field, even if not financially, through Devore's tenure, going 25-9-1. Unfortunately, the financial aspect was the critical one. Perhaps seeing the writing on the wall, Devore resigned in Feb. 1950. That same month Canisius College announced that it was discontinuing its football program. The following year Niagara made the same decision, ending Little Three football. (214)
Saint Bonaventure's new president, Father Juvenal Lalor, wasn't the good friend to the football program that his predecessor, Father Thomas Plassmann, had been. While football continued under Coach Joe Bach through the 1951 season, its days were numbered. Citing the disproportionate financial resources necessary to maintain a football team at a small school, Lalor announced in Feb. 1952 that the Board of Trustees had voted to end the football program after 60 years. (214)
Postscript.
"In 1968, upon their petition, a group of students was given permission to initiate a program of Club Football. This was not a solitary phenomenon--other schools in the area which had dropped varsity football, such as Canisius and Niagara, had initiated football of this type, strictly amateur, with all expenses to be borne by the Football Club itself. The initial enthusiasm on the Bonaventure campus was not of long duration, as events subsequently proved: bad weather, the lack of a playing-space on campus,...absence of a skilled organizer and publicity staff, were joined by general student indifference and non-acceptance by the general public. In other words, despite attractive scheduling, Club Football died a-borning, after the 1970 season." (Wallace, 64)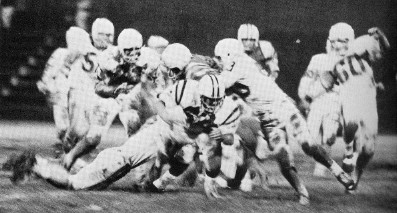 Club football in 1969.
1970 Bonadieu
---
References:
Angelo, Mark V. The History of Saint Bonaventure University. Saint Bonaventure: Franciscan Institute, 1961.
Knott, Rick. " 'The Terror of the Minor Colleges' : A History of St. Bonaventure University Football." unpublished paper. 2003.
Wallace, Malcolm. And They Were Giants : The St. Bonaventure Football Book. St. Bonaventure: Franciscan Institute, 1989.

Page created 1/21/2004 by D. Frank
Last updated: 02/12/08