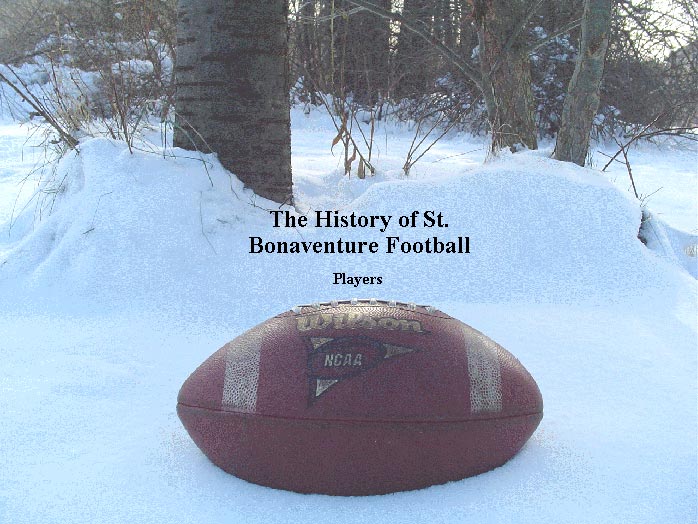 Bonaventure's "Dream Backfield"

The Dream Backfield was made up of Clem Faust, John West, John Labas, and Truman "Whitey" Painton. they played in 1935 when the team went 6-2-1.
| | |
| --- | --- |
| | After a distinguished career at St. Bonaventure, including setting the ECAC pass-receiving record in 1950, Butler went on to the NFL. He played nine years with the Pittsburgh Steelers. He was also an All-NFL Defensive Back, and an NFL All-Pro for 6 years. After 1960 he was named the NFL's Defensive Back of the Decade for the 1950's. Butler was inducted into the Pro Football Hall of Fame Class of 2012. |
Phillip James Colella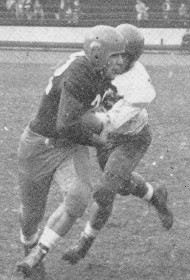 Colella in dark uniform
Colella transferred from Notre Dame to St. Bonaventure. In 1948 he became a Co-Captain and was named to the Little All-America Team. He is in the St. Bonaventure Athletic Hall of Fame.
| | |
| --- | --- |
| Clement "Clem" Woodrow Faust | Clem was a large factor in "The Dream Backfield" of 1935. In his senior year he was named as a Little All-American. He is enshrined in the Bona Athletic Hall of Fame. He was the first St. Bonaventure player to gain national recognition. Clem became a school teacher after his playing days were over. |
| | |
| --- | --- |
| Stephen "Steve" Gilbert | Gilbert was an excellent athlete. During his stay he played three sports. He was an End, and punter, in football, played three years of Bona basketball, and was a pitcher for the baseball team. |
| | |
| --- | --- |
| John "Johnny" Thomas Gildea | Johnny played left halfback and was a quarterback as well when he played with St. Bonaventure. He went on to play in the NFL, where he was a drop kicker with the Pittsburgh Pirates and New York Giants. |
| | |
| --- | --- |
| Theodore "Ted" Marchibroda | Ted was the first pick of the Pittsburgh Steelers where he played for one year, then left to serve in the army. He returned to the Steelers in 1955 and played for them until 1956, after which he finished his career in Chicago with the Cardinals in 1957. He coached in the NFL for over 28 years. Ted coached teams like the Washington Redskins, L.A. Rams, and he followed George Allen back to coach at Washington. He was also the head coach at Baltimore where the Colts went 41-36 in 5 seasons. His team won 3 consecutive AFC East titles. Ted later moved on to the Chicago Bears franchise, as well as Detroit and Philadelphia. He came back to western New York in 1987 when he was the quarterback coach for the Buffalo Bills. He was promoted to offensive coordinator in 1989. |
Photos added by D. Frank 01/22/04
Hit counter added 1/30/04
Butler entry corrected 2/4/04
Professional list added 09/07/04
Last updated: 09/05/12