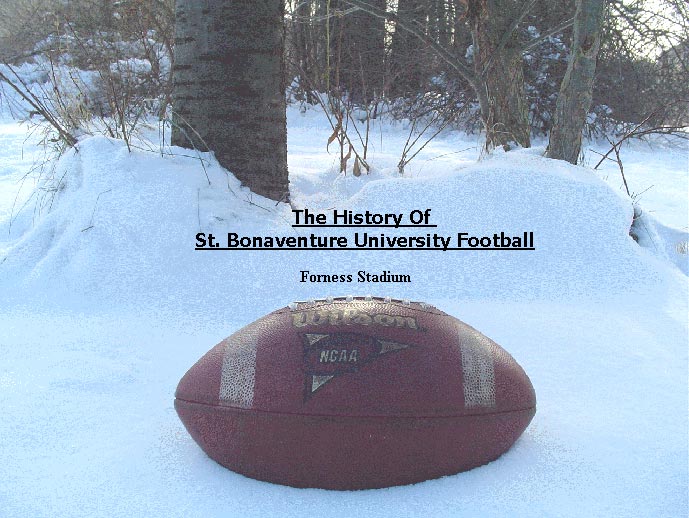 When Coach Hugh Devore arrived at St. Bonaventure the entire southern tier was extremely excited that "big time" football had came to little St. Bonaventure. At the introductory dinner for Coach Devore, Fred W. Forness, former three term Mayor of Olean, pulled out one of the biggest surprises at the dinner. He got up and made the announcement that now that we have a great football coach we need a great football stadium. He then donated $100,000 to finance the building of St. Bonaventure's first football stadium.
| | |
| --- | --- |
| | Fred Forness talks with National Championship winning coach, Frank Leahy from Notre Dame, while Coach Devore looks on. Leahy was one of Devore's good friends and came to Bonaventure to show him support and wish him luck with his new team. |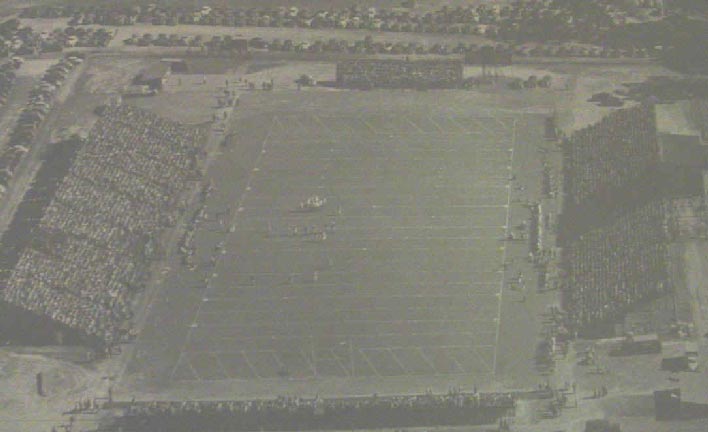 Construction of the stadium wrapped up in a record breaking 77 days. The very first game played in the stadium was on September 28, 1946. St. Bonaventure lost to Youngstown, 20-14. The two largest crowds that the stadium saw were 12,000 in 1948 when Bonaventure played William and Mary, and another one of 12,900 when Canisius came to Bonaventure for a Little 3 showdown. The Brown Indians won both of these heavily attended games.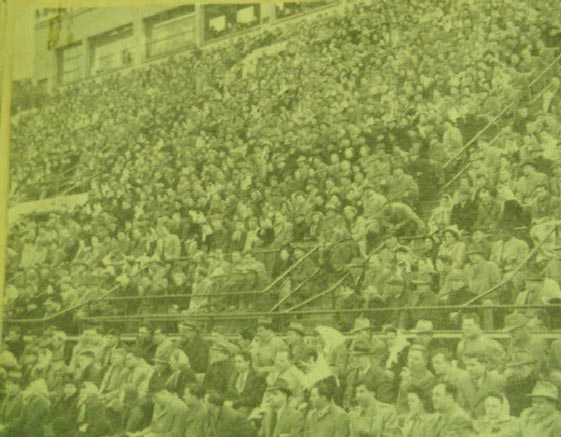 Some of the 12,900 people that attended the St. Bonaventure-Canisius game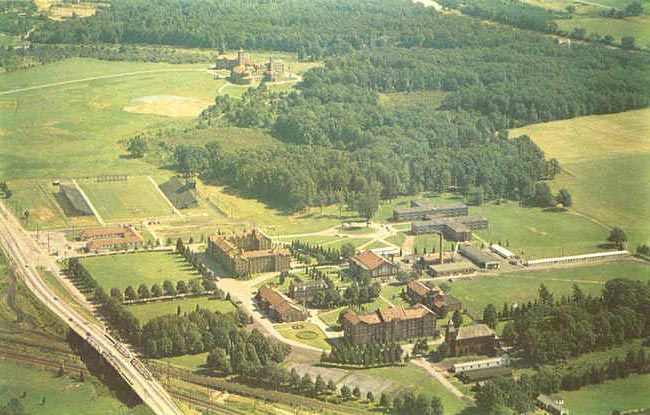 Aerial photo of St. Bonaventure's campus circa 1959. Forness stadium is on the left.
Forness Stadium continued in use until its demolition in 1959. Even then some of the bleachers ended up at the Portville Schools athletic fields where they remained in use into the 2000's. From 1952 to 1957 the Pittsburgh Steelers used St. Bonaventure's facilities for their summer camps, extending the Rooney family's connection to the school. Fr. Silas Rooney, OFM, Art Rooney's brother, played football here and was Athletic Director for some years. The family connection continues, most recently in the form of the McGinley-Carney Center for Franciscan Ministry.
Last updated: 01/30/04
Hit counter added 1/30/04