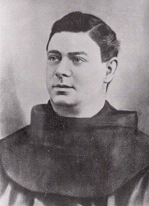 Father James Dolan, O.F.M. was born on March 4, 1861 in Allegany, NY. He was ordained priest in 1886, whereupon he went to Franciscan Church in New York City until 1892. After his time in the city, he came to St. Bonaventure's College in 1893 until his death in 1897.
While he was at St. Bonaventure's, he was a professor of Rhetoric and Literature. He served as Vice President of the College during the short period he was at St. Bonaventure's.
His love for literature motivated him to form the James Dolan Literary Association for those students interested in English. He held debates weekly for students on a variety of topics. Father Dolan focused his extracurricular activity on the study of the classics of English Literature.
He was perhaps the first teacher to form a student organization focused on academics. This laid the foundation for other academic activities in the future, including the many fraternities which were organized.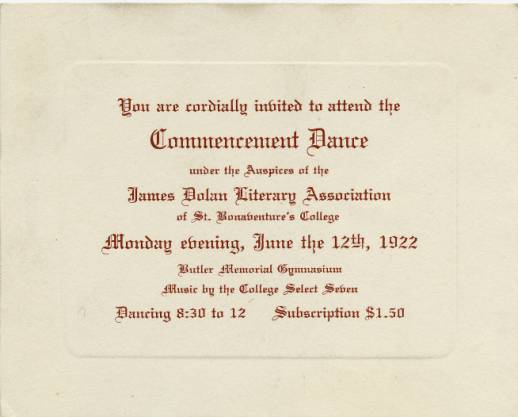 Father Dolan not only organized the James Dolan Literary association, but he was also the founder of Athletics at St. Bonaventure's. Currently, he is in St. Bonaventure's Athletic Hall of Fame.
The James Dolan Literary Society changed its name in 1894 to Iota Delta Alpha
Father Dolan contributed to the diversity of extracurricular activities and athletics at St. Bonaventure during only the few years he was on campus. His achievements are astounding, and he will never be forgotten in St. Bonaventure's history.
Click here for a collection of references relating to Fr. Dolan.
Back to the activities listing
Images taken from SBU Archives