Irving R. Bacon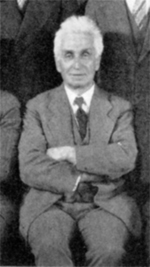 "Scholar, Journalist, Lawyer, Professor"
n
Irving Bacon was born of Jewish parents in New York City, April 5,1863. After the death of his parents, he came under the care of his uncle and aunt. When he was sixteen years old, the family moved to Olean, New York. After being employed for a short time at the law office of Cary, Jewell and Rumsey, in Olean, he entered St. Bonaventure's College in 1881. During his three years here, he had an unquenchable thirst for knowledge and a great love for the classics. He received a Bachelor of Arts degree in 1884. Upon finishing college, he had intended to enter the priesthood, but instead studied law at Columbia University, and then Tulane University law school. Bacon left Tulane and went to New York City, then to Denver, Colorado where he became a newspaper reporter on the Denver Daily Democrat. After six months on the Denver paper, he decided to enter the Jesuit Order at Santa Clara, California to study for the priesthood.

He left the novitiate, however, and returned to New York state, where he was admitted to the bar in 1890.

Instead of practicing his profession he became a reporter on the New York Evening World.
Upon his return to St. Bonaventure he earned his master's degree. At St. Bonaventure, he was a professor of English and Latin from 1926-1929. Bacon was the founder and first editor of the St. Bona Venture. Bacon helped make The St. Bona Venture one of the foremost college journals in the country. He will always be remembered by St. Bonaventure as a great scholar and a man who exemplified the motto of The St. Bona Venture he founded: "Truth, knowledge, duty, justice, and sympathy," which combined to made him a true gentleman, loved and esteemed by those who knew him.
04/02/2007