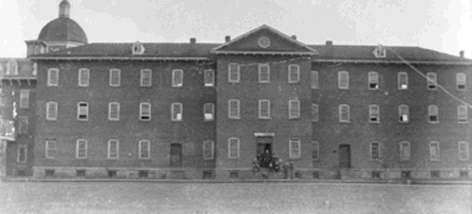 The College Building pre-1900 before it became Lynch Hall.
The College Building was the second building to be added to the St. Bonaventure campus. It was constructed on the site of present-day De La Roche Hall and was completed on October 4, 1858 as a classroom building for the students and seminarians. The College Building cost only $10,000 to build. It was razed in 1899 to begin work on the larger "New" College Building. Construction began on May 22, 1899 and was complete on April 23, 1901 for an overall cost of $75,000.
The "New" College Building was used for both classrooms and as a dormitory with students living on the two top floors. The building stood for eight years when on June 30, 1908, the College Building was severely damaged by fire, the first in a series that would plague St. Bonaventure's history. The students were temporarily housed in the monastery, seminary, and in Alumni Hall (Blinski). One hundred and twenty-five men went to work restoring the building so that it could be used again after Christmas 1908 (Blinski). This renovation and restoration was made possible by Fr. Francis J. Lynch of Thorndike, MA, who donated a gift of $25,000 to St. Bonaventure ("Lament to Memory").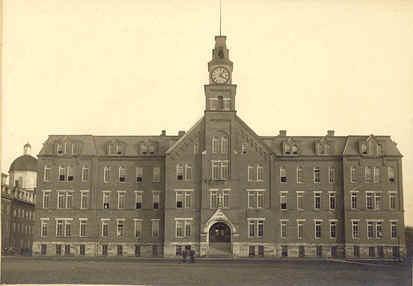 Lynch Hall (now De La Roche) circa 1909.
The new Lynch Hall, completed in 1909, was five stories high, complimented by a bell tower at the top. The bell was purchased by the residents of Allegany, NY for one hundred and twenty dollars and fifty cents from West Trop Bell Foundry in West Trop, NY. The basement of the building contained science laboratories and a bowling alley ("Lament to Memory"). The first two floors were used as classrooms and third and fourth floors were again used as student housing ("Lament to Memory").
On April 18, 1933 fire "struck" again. Lightning hit the clock tower during a storm, causing it to burst into flames ("Fifty Thousand"). The fire departments of Olean and Allegany and ten other surrounding towns responded to the blaze. The flames were confined to the tower until the bell and timbers crashed through to the fourth floor ("Fifty Thousand"). Due to the fact that the fire occurred during Easter break, few students were at St. Bonaventure at the time. The top two floors were consumed by fire and the remainder of the structure sustained extensive smoke and water damage. The bell from the clock tower was moved to the bell tower of Devereux Hall.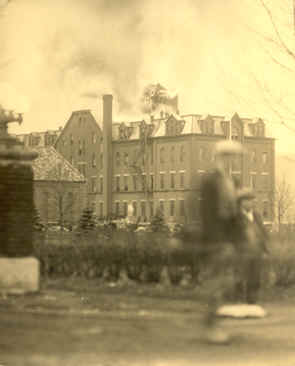 The Lynch Hall fire- April 18, 1933.
St. Bonaventure had endured yet another loss within three years of the fire that took the monastery and chapel. Damages were totaled at $50, 000. Thankfully, there was no loss of life. In June 1934, however, St. Bonaventure would be back on its feet again with a new science building- De La Roche Hall. De La Roche stands on the site of the former Lynch Hall.
Last updated: 07/01/10