Carroll "Mike" Reilly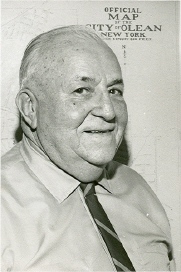 Born: May 7, 1899
Died: Dec. 31, 1971
Coach: Basketball 1928-1943
Coach: Football 1930-1943
Athletic Director 1930-1943
Mathematics Professor 1928-1943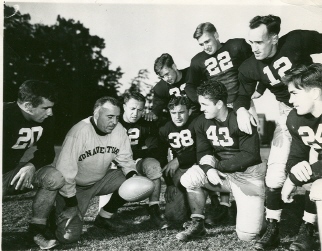 Mike Reilly with his football team
Mike Reilly graduated from St. Bonaventure in 1925 as an outstanding student and athlete. He returned to Bonaventure in 1928 and became the coach of basketball and a teacher of mathematics. In 1930, he was named football coach and athletic director. His teams reflected their coach--they were aggressive, they were disciplined and they were full of spirit.
Mike Reilly possessed great sympathy--great compassion and a great ability for counseling. He was capable of great personal sacrifice--he taught, he coached, he counseled-- he carried three jobs for the salary of one. Never bitterness over the continual pressures due to a lack of facilities, to a lack of money that would have allowed St. Bonaventure to be sportwise and athletically more competitive.
He had great character and great powers of perception. He was real, honest, straightforward, and hard-hitting. He could bring out the best in an individual, could recognize great native endowment.
-Dedicatory Remarks of Fr. Damian McElrath, OFM University President
St. Bonaventure Football coaches page
Early St. Bonaventure Basketball page