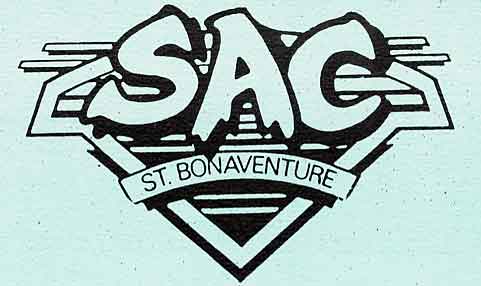 Student Activities Council (SAC) at Saint Bonaventure University was founded in 1968. Prior to this organized program, the Student Senate organized activities. SAC took over responsibility from the Senate for programming events on campus when the duties that were supposed to be fulfilled were not. SAC was formed with the organization and cooperation of administrators and students. Its goal was to be an organization that successfully programmed activities for students at St. Bonaventure.
With the presence of this organized council, students were given a better opportunity to program events that were of interest to the greatest number of students. The formation of SAC would be a foundation for how the campus's activities would be programmed in the future.
In its first year as a new organization, SAC was granted a budget of $8,000 to begin its responsibilities. The first significant director of SAC was Father Brennan Fitzgerald.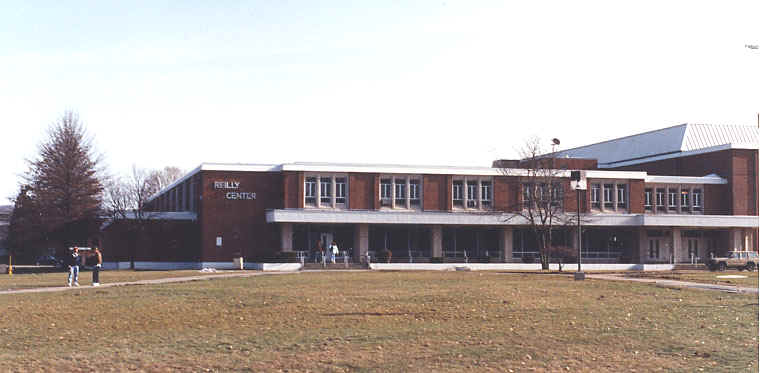 The University Center was built a few years before the administration of Rev. Fitzgerald began. It was later renamed the Reilly Center, after Mike Reilly, who had coached St. Bonaventure's basketball, football, and baseball teams over the years. He also was an Athletic Director and the first person inducted into the Sports Hall of Fame at St. Bonaventure. This building acted like a union to the University, but was not one because of an uprising of students trying to take over their school's unions at the time. The administration did not want to see any acts of violence on the campus.
The University Center was the focus of activities for students. According to Father Fitzgerald, "with the opening of the University Center, student organizations were able to have offices and there now was a venue for Rock Concerts, Broadway Dramas and Musicals and lectures from the college circuits."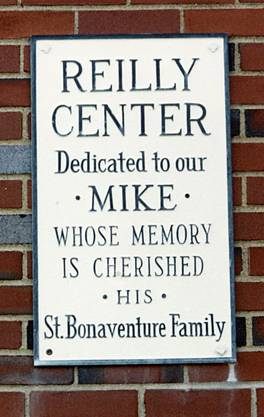 In 1969, SAC became affiliated with the National Association of College Unions (NACU). This organization provided the University with many new opportunities. NACU assisted SAC by supplying them with activities and events that were popular at other colleges across the country. Through NACU, SAC was able to purchase certain programs cheaper. The association SAC had with NACU and the success of the programs on campus gave SAC a reputable name that students came to respect and appreciate.
The organization of SAC was divided into four executive board positions. Through the successful completion of their responsibilities, the organization was able to prosper. SAC also consisted of eight committees, which had their own chairpeople. The combination of these subdivisions in SAC lead to the prosperous outcomes of student programming on campus.
SAC also introduced a series of impressive plays. Some of the highlights are the following:
A Midsummer Night's Dream"
"West Side Story," February 27, 1978
"A Chorus Line," September 25, 1980
"The Elephant Man," October 30, 1980
"Bob Fosse's "Dancin,'" January 17, 1983
"Da," December 13, 1979
"Show Boat," September 26, 1979
"1776"
"Hamlet"

Other famous people that performed while SAC existed are: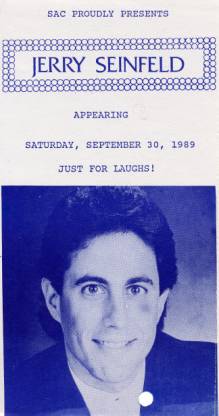 Loggins & Messina
Gen. William Westmoreland
Jane Fonda
Pure Pedigree League
Bruce Springsteen
David Bromberg Band
G. Gordon Liddy
Robin Williams
The Wright Brothers
Don McLean
James Taylor
Phil Donahue & Vladimir Posner
1000 Maniacs
Morton Downey Jr.
Eddie Money
Jerry Seinfeld
Squeeze
4-20-1976
11-15-1977
12-1-1977
12-9-1977
11-10-1978
11-9-1979
9-30-81
9-25-1986
1987
4-25-1987
9-26-1987
10-1-1987
10-30-1988
11-6-1988
4-28-1989
9-30-1989
11-12-1989
SAC changed names to Student Programming Board in 1990, then to Campus Activities Board in 1994.