Soon after the completion of the new college building, known at the time as Lynch Hall, Father Joseph Butler resigned as President of St. Bonaventure because of poor health. Six months later, on July 25, 1911 Father Joseph Butler passed away in his sleep. Five years later, St. Bonaventure completed Butler Gymnasium in the late President's honor. "Father Joe," as he was known around campus, always stressed the importance of athletics as well as academics. The new gymnasium was a fitting tribute to one of the school's most beloved leaders. Butler's accomplishments and legacy as president can be seen throughout the campus. Today, a statue of Father "Joe" Butler stands in front of Friedsam Memorial Library. The statue, Butler Gymnasium and De La Roche Hall are all reminders of what a great man and President St. Bonaventure University had in Father Joseph Butler.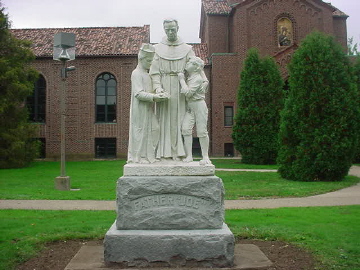 Bibliography
Carey, Alfred. Fr. Joseph Butler. Bonalumnus. St. Bonaventure, Ny.
Father Joe's Boys. Allegany, Ny. 1962.
St. Bonaventure University Archives Presidents Files

Back to Biographies page Back to Presidents' Pages Archives Home Page
__________________________________________________________
This page was created by Max Halady for History 419 in the Spring 2011 Semester.
________________________________________________
For information about the Archives' collections contact:
Dennis Frank
(archives@sbu.edu)
Archivist
telephone: 716.375.2322