William F. Walsh Science Center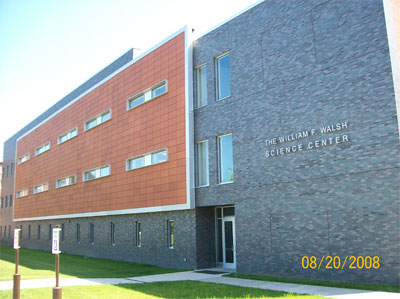 Photo courtesy of D. Higley in the SBU construction office.
Designed by Cannon Design of Grand Island, NY, and constructed by E.E. Austin & Son of Falconer, NY, the William F. Walsh Science Center was dedicated on August 27, 2008. The complex stands parallel to De La Roche Hall, and is connected to the other building by a glass corridor. The Walsh building is St. Bonaventure University's answer to the, "concern in our country about the critical need to improve education in science, mathematics and engineering," according to University President, Sr. Margaret Carney, OSF. This state-of-the-art, $14.6 million, 46,500 square foot complex is designed to improve education in the sciences at St. Bonaventure University, with the hope of attracting more students for the science programs.
The Walsh building "houses state-of-the-art computer science, laboratory and classroom space, biology labs, organic and general chemistry labs, a Natural World lab, a 150-seat indoor amphitheater, and faculty offices integrated with lab space for better student-teacher accessibility." (Press Release, 8/27/2008) In addition to the construction of Walsh, De La Roche Hall, the oldest academic building on campus, was extensively renovated in order to bring its facilities up to date. Not only are the two buildings better equipped to teach the sciences; they also employ green technologies in order to run more efficiently. Both buildings now use groundwater for their cooling systems, reducing the energy required for air conditioning by about 84%. An interesting design feature is the Black Oak wall in the lower level hallway. For more information, see this page.
The Walsh building is named for William F. Walsh, a 1934 graduate of St. Bonaventure, mayor of Syracuse in the 1960s, and a 3-term congressman in the 1970's. His son, now retired US Congressman James T. Walsh (R-Syracuse), helped to secure NASA funding for the project, with the cooperation of US Congressman Amory Houghton. Congressman Walsh is a 1970 graduate of St. Bonaventure and stated, "We are especially proud of our dad who has been our leader and has never forgotten his most important job – that of being our father. We are deeply grateful to St. Bonaventure for recognizing his leadership," when asked about the science addition being named after his father.

William Francis Walsh was born in 1921, in Syracuse , New York and earned his BA at St. Bonaventure University in 1934. After serving five years in the Pacific Theater, during World War II, Mr. Walsh pursued a career in Social Sciences. In 1961 Walsh became mayor of Syracuse . He served two consecutive terms as mayor. During his terms as mayor Walsh was appointed to serve on a "Special Presidential Committee on Inter-Governmental Affairs" by President Lyndon Johnson. After his second term as mayor Walsh served as a member of the New York State Public Service Commission, to which he was appointed by Governor Nelson Rockefeller in 1969. In 1972 Walsh ran for Congress, winning the election and serving as a Representative in the 93rd, 94th, and 95th Congresses.

Mr. Walsh has seven children, and was honored with an honorary Doctor of Civil Law degree by St. Bonaventure University in 1970.

William Francis Walsh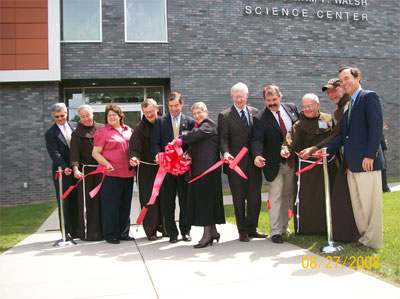 Dedication of the William F. Walsh Science Center, 27 August 2008.
Participants are (from left): Michael Fischer, provost and vice president for academic affairs;
Very Rev. John O'Connor, O.F.M., University trustee; Donna Brestensky, chair of the chemistry department;
Fr. Peter Schneible, O.F.M., biology professor; U.S. Rep. James T. Walsh;
Sr. Margaret Carney, O.S.F., University president; Robert Crowley, co-chair of the 2008 Bonaventure Fund ;
Steve Stahl, dean of Arts and Sciences; Fr. Fred Link, O.F.M., University trustee;
Fr. Dan Riley, guardian of the friary and Mt. Irenaeus; and Leslie C. Quick III, University trustee.
Due to health concerns, William F. Walsh was unable to attend the dedication.
(Photo courtesy of D. Higley in the SBU Construction office.)

Last updated: 04/04/2016