John J. Murphy Professional Building
The John J. Murphy Professional Building is a multi-purpose academic facility for the School of Business and the Russell J. Jandoli School of Journalism and Mass Communication. On the first floor there are six classrooms, a koop lab, newsroom and a computer lab. The second floor is made up of 40 offices. The Murphy building also contains a 432 seat auditorium, lecture classrooms and dean and faculty offices. It houses a high-tech broadcast journalism lab as well as a television studio. When the cornerstone was laid an airtight vessel was enclosed with different objects having to do with Saint Bonaventure at the time it was sealed and will be opened 100 years from date is was closed.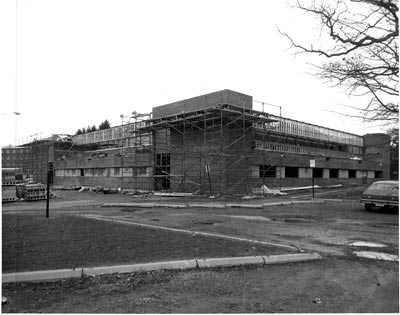 Murphy building during construction in 1980
In 1916 Saint Bonaventure became one of the first three Catholic colleges in the United States to offer journalism courses. In 1949 the Department of Journalism was officially established and in 1977 it was changed to the Department of Mass Communication because of changes in media structure and our own curriculum.
Because of a 200% enrollment increase for the School of Business and Mass Communication in the 1970's plans were made to renovate Butler Gymnasium. The cost of doing this was higher than expected so it was decided that the university should build instead. Construction began on the John W. Mecom Sr. Academic Center on October 10, 1980. It would later be renamed the John J. Murphy Professional Building.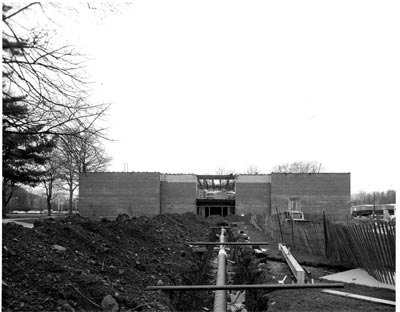 Front of the Murphy building during construction
John W. Mecom Sr. a Texas oilman and philanthropist as well as co-owner with his son of the New Orleans Saints football team died on October 12, 1981. Before his death, Mecom had pledged a sum of money to have his name on the building and had paid a portion of it but died shortly after. Rev. Brian Cullinane, former Vice President of University Relations, came to Mecom's son, John Jr. after Mr. Mecom had died about the rest of the donation. The family said that it wouldn't be able to contribute right then but would be able to in years to come. Negotiations with the family continued to occur for ten years on and off, but no formal agreement was ever made. Because a contract was never signed the family was under no obligation to the University.
On August 25, 1997 the Mecom Center was dedicated to John J. Murphy because of the time, energy and financial support he had given to the university. Murphy had been a member of the Board of Trustees since 1978.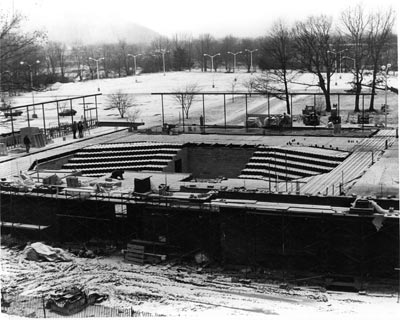 View of auditorium during construction

back to Buildings
Site updated 9/25/06
Created by Cathy Lapp: Internship in History, Fall 2006 semester.