Mt. Irenaeus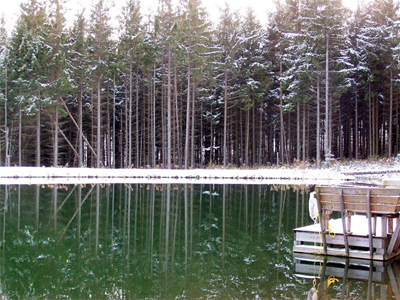 Daniel A. Hurley, O.F.M. Description of Mt. Irenaeus
Mount Irenaeus, a Franciscan Mountain Retreat was established in the tradition of St. Francis' Rule for Hermitages. St Francis himself used to absent himself from his brothers and find a quiet place in the hills to meditate and to pray to his heavenly Father. He encouraged his brothers to take time away from their busy lives and to enjoy the quiet of a place of retreat. Dan Riley, of the Campus Ministry Team at St. Bonaventure University, had several conversations with the late Fr. Irenaeus Herscher, the longtime librarian at St. Bonaventure, about the desirability of a place away from the campus where the students and the faculty could reflect and pray without interruption and without concern for their academic work. As early as 1981, Dan Riley gathered together a number of laymen and friars and Sisters and formed a not-for-profit corporation and named it Mount Irenaeus, a Franciscan Mountain Retreat. The group began to plan for and to accumulate funds for a place away from the Bonaventure campus that could be used for prayer and reflection.
In the summer of 1983, the University allowed the group to use Collins Hall, a building on Union Street in Allegany that housed students during the academic year, as a place of retreat. Dan Riley and Dan Hurley, another friar in the Campus Ministry at St. Bonaventure, began Mount Irenaeus in Collins Hall – a mountain retreat in the village of Allegany. In the meantime, the not-for-profit group looked for property in the area that might be suitable. The following summer (1984), an appropriate location had not been found so Mount Irenaeus again took up residence for the simmer in Allegany. In the fall of 1984, a suitable site was located in the Town of West Clarksville in Allegany County. Under the leadership of Dan Riley and with the help of gifts from Holy Name Province, St. Bonaventure University and the local friary, the group purchased two hundred seven acres of land from Albert Ernst, a retired DuPont employee form Buffalo. Almost immediately, Dan Riley began to take students from St. Bonaventure to the property, sometimes for a workday, sometimes for a "day-away" and sometimes for an overnight retreat.
By summer of 1985, the previous owner had removed their belongings and Mount Irenaeus moved in. that summer, Dan Riley, Dan Hurley and two recent graduate alumni of St. Bonaventure made up the "core community". At the time continual residence took place only in the summer months.
TIME LINE
1971

Dan Riley, OFM and Irenaeus Herscher, OFM, librarian at SBU talked over coffee, about a place away from campus for retreat and prayer.

Gervase White, OFM and Dan Riley OFM lead a retreat away from campus and were enthused about the idea of having a retreat place for Bonaventure Students.

1981
A mountain advisory board was formed
1982
On June 29, The Franciscan Mountain Retreat was incorporated as a not-for-profit corporation in the State of New York. The original trustees of the corporation were Dan Riley, OFM, J. Michael Shane and Clarence M. Schaffner.
1983
The name Mt. Irenaeus was given to the corporation in memory of Fr. Irenaeus Herscher, OFM

Dan Riley, OFM and Dan Hurley, OFM began Mt. Irenaeus in Collins Hall on Union Street in Allegany for ten weeks in each of the summers of 1983 and 1984

1984
November 13, a newly expanded Board purchased 207 acres in West Clarksville, New York.
1985
Students for the Mountain was formed

Dan Riley and Dan Hurley began temporary residence in West Clarksville with two "Summer Interns".

1986
Expansion and renovations were complete on the one small cabin to meet the growing needs, prayer porch and entrance way were added to improve the house while mass continued outdoor in good weather.
1987
The Trustees of Mt. Irenaeus establish a five-year plan conceiving of a chapel and eventually a new home while St. Clare's is constructed.
1988

St. Joseph Hermitage was constructed through a gift from the Holy Name Province.

Construction of Holy Peace Chapel begins

The cabin named St. Clare in the Meadow begins with the help of Rob Granger of Wellsville and BOCES of Belmont

1989
Holy Peace Chapel was completed and dedicated by Bishop of Buffalo Edward Michael Grosz.

Joseph Kotula, OFM takes up permanent residence are Mt. Irenaeus. Bringing total friar community at the mountain to three full time residents.

1990
LaPosada was completed at the top of Mountain Road
1991
Juniper Hermitage was complete along with further trails

Holy Lady Hermitage, a log cabin across the street was purchased

Friary community grows to four full time members with the addition of Louis McCormick OFM

1994
Ground breaking for the house of Peace took place in June
1995
House of Peace is completed and dedicated on September 23.
1997
A small pond behind the House of Peace, near Sunrise Cabin is completed.
1998
Mt. Irenaeus acquires fifty more acres
2001

Sophia Cabin was built with a donation from the Stella Niagara Sisters

St. Clare Cabin is renovated with a grant from Mary Jean Lucco.

Mt. Irenaeus Board announces plans to start Endowment Campaign


This site was created by Brett Reed, History and Archival skills 419 spring 2011.
For information about the Archives' collections contact:
(archives@sbu.edu)
Archivist
telephone: 716.375.2322
Page last updated: 05/10/2011