Fr. Juvenal Lalor. OFM

12th President

1949-55


FRIEDSAM MEMORIAL LIBRARY
Archives

Biographical
Pages

Presidents list Archives' site index Biography Index
In 1949 a decision was made to separate the offices of president of the college and rector of the seminary. Fr. Juvenal Lalor, who became the third youngest president at the age of thirty-eight, was born in Brooklyn in 1911. He was received into the Order in 1929, and was ordained a priest on June, 9 1936. He completed his theological studies in 1937, and was assigned to St. Joseph's Seminary, Callicoon, New York. The following year he came to St. Bonaventure as Professor of English in the college, and Philosophy in the seminary. From 1939 to 1943 he pursued graduate study in philosophy in Canada. Fr. Juvenal came back to St. Bonaventure in the spring of 1943 and was appointed Spiritual Director of the seminary and Professor of Philosophy in the college and seminary. He was named head of the college Department of Philosophy in 1946.
When Fr. Juvenal was elected president by the board of trustees on July 13, 1949. He was the first to be formally inaugurated which took place on September 22, 1949 and Fr. Juvenal became the twelfth president of St. Bonaventure. During Fr. Juvenal's term he saw the result of many years of hard work put forth by his predecessor Fr. Thomas Plassmann, who was now chairman of the Board of Trustees. Fr. Tom had worked to change the status of St. Bonaventure from College to University. When Fr. Tom was named Provincial, Fr. Juvenal took his place at the meetings of the Board trying to convince them to apply for charter. Finally, at a meeting in New York City on May 29, 1950, a formal petition was drawn up and signed for submission to the Board of Regents. Fr. Juvenal, on behalf of the Board of Trustees, submitted the petition to the Board of Regents on June 2, 1950. By July 21, less than two months later, Fr. Juvenal received a message by telephone from from the State Department of Education that the petition had been accepted and several days later Saint Bonaventure received the status of University. The document that made St. Bonaventure a University reads as follows: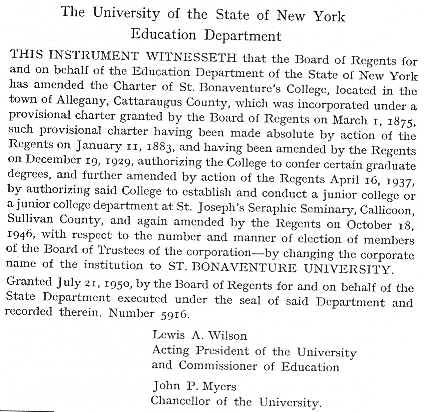 In 1952 Fr. Juvenal announced that the University would discontinue St. Bonaventure football as an intercollegiate sport citing financial reasons for the actions. The year 1955 marked the end of the administration of Fr. Juvenal, the first president of St. Bonaventure University. During his six year term , the institution's charter was changed from that of a College to a University, a new seminary building was completed , and two modern residence halls erected, marking the completion of an extensive building program already in progress.
Previous president Next president
Biographical Information:
NAME: LALOR, JUVENAL (FR) (OFM)
OTHER NAMES/ SPELLINGS: NONE
DATE OF BIRTH: 1911-06-30
BIRTH PLACE: BROOKLYN, N.Y.
RECEPTION INTO ORDER: 1929-08-19
ORDINATION DATE: 1936-06-09
WHERE ORDAINED: UNKNOWN
SERVED AT SBU: 1938-39,1946-1955
SERVED/ PRES: SEPTEMBER 22,1949-1955
SERVED ELSEWHERE: PREFECT OF DISCIPLINE- ST. JOSEPH'S SEMINARY IN N.Y.\1938-PROF OF PHIL-ENG AT SBU.\DEPART HEAD PHIL-1946-S.B.C\
ACCOMPLISHMENTS: COMPLETED THEOLOGICAL STUDIES-1937\1939-1943 1)GRAD STUDY IN CANADA 2)1941 MASTERS OF ARTS INST. OF MEDIEVAL STUDIES UNIV. OF TORONTO 3)1943 DOCTOR OF PHILOSOPHY AT ST. BONA'S \ HELPED ST. BONAVENTURE ACHIEVE UNIVERSITY STATUS-1950-10-04 CHARTER DAY CEREMONY\ 1952-11-10 CHRIST THE KING SEMINARY COMPLETED\ FIRST PRESIDENT OF SAINT BONAVENTURE AS A UNIVERSITY
DEATH DATE: 1988-09-18
BURIAL PLACE: HOLY SEPULCHRE CEMETERY TOTOWA, NEW JERSEY
BUILDINGS CONSTRUCTED WHILE PRES: DIOMEDE CARDINAL FALCONIO AND ARCHBISHOP PASCHAL ROBINSON HALL COMPLETED JANUARY 1955
BUILDINGS DEDICATED: DEDICATED FALCONIO AND ROBINSON HALL JUNE 5,1955
LOCATION OF PHOTOS: ARCHIVES, FOUNDERS ROOM
Bibliography:
Angelo, Mark V., OFM. The History of St. Bonaventure University. St. Bonaventure, NY: Franciscan Institute, 1961.
St. Bonaventure Archives
Presidents list Archives' site index Biography Index

This page was created by Kevin Lawless as part of an internship during the Fall 2004 semester. Any changes, other than minor editing, are noted at the bottom of the page.

For information about the Archives' collections contact:
Dennis Frank
(archives@sbu.edu)
Archivist
telephone: 716.375.2322
Created 08/30/04 by Kevin Lawless
Last updated: 03/02/06