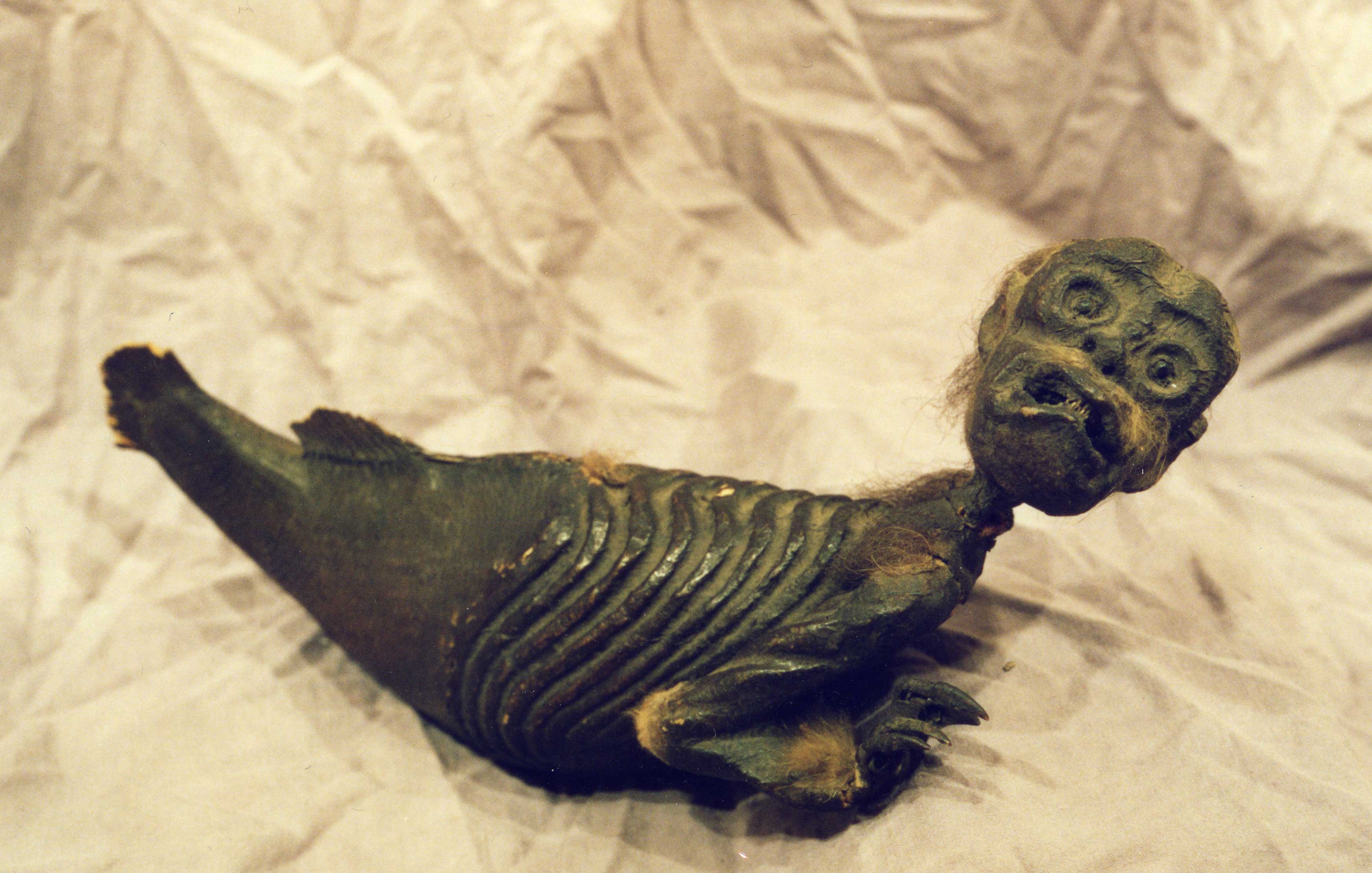 A "Feejee Mermaid" was found in a locked Francis Hall storage space by Bro. David Haack, OFM, in 1996 as reported in The Bona Venture. While she resides in the Quick Center now, the mermaid is reported to have ended up at Saint Bonaventure in the 1950's, coming as a donation which had been purchased from the estate of architect Stanford White. White is believed to have acquired it from P.T. Barnum's estate in 1891, however...
"The Feejee Mermaid" first achieved prominence in the United States as part of P.T. Barnum's American Museum. Promoted as The Missing Link Between Humans and Fish, it brought thousands of visitors to its exhibits and quadrupled the normal attendance at the American Museum during its first month on display.
Barnum's mermaid was brought to London in 1822 by American sea captain, Samuel Barrett Eades. Eades acquired it from Dutch merchants in the East Indies. They claimed to have gotten it from Japanese fishermen. It was exhibited for several years and then disappeared until 1842 when Moses Kimball, proprietor of the Boston Museum, produced it. P. T. Barnum arranged with Kimball to display it.
When the American Museum burned in 1865 the Mermaid was believed to have been destroyed, though the possibility remains that a fireman rescued it. And there's also a possibility that it wasn't in the museum at all, since Barnum may have returned it to Kimball before the fire. A number of "FeeJee Mermaids" have turned up in various collections, with Harvard's Peabody Museum owning one of the more noted ones. Their records indicate that it came from Moses Kimball's family, so the question arises, "Was there more than one mermaid in the eastern US in the 1850's?"
This is actually a likely possibility as the mermaids were made by artisans in Japan and the East Indies and picked up by travelers as souvenirs. Just to add a bit more confusion to the story, a man named Homer Tate was apparently making and selling mermaids in his Tate's Curiosity Shop in Arizona in the 1960's and some of those we find now may be of that more recent vintage.
Is Saint Bonaventure's Feejee Mermaid the original P. T. Barnum version? According the The Bona Venture (3/3/1950), it came from an auction of the Stanford White Collection. It was purchased by friends of Fr. Irenaeus Herscher, OFM, who gave it to him as a gift. In the end, the gaps in the record surrounding her journey from Asia to western New York leave it an unanswerable question...so far.
Feejee Mermaid links
The Bona Venture, April 3, 1998
The Harvard University Gazette, Oct. 17, 1996
Other resources:
Barnum, P. T. Struggles and Triumphs. Buffalo: Courier, 1889. Call number: GV1811.B3A3 1889
Harris, Neil. Humbug: The Art of P. T. Barnum. Boston: Little, Brown, 1973. Call Number: GV1811.B3H37
"Mermaid: Whatever Happened to Barnum's hoax?" The Bona Venture 24 March 1983: 4.
"Was P. T. Barnum's Mermaid a Product of Japanese Art?" The Bona Venture 3 March 1950: 3.
This page was created 3/2003 by Dennis Frank
Location updated 9/17/03
Last updated: 01/19/12
Please direct comments to the library webmaster or the Archives