St. Bonaventure Clubhouse Restaurant
| | |
| --- | --- |
| TODAY (2006) | YESTERDAY (1940s) |
| A view from the Cemetery | A view from the Golf Course |
On the 16th of May, 1929, ground was broken for the Clubhouse Restaurant. Fr. Thomas Plassmann, O.F.M performed the ceremony. The architects were Townsend & McNeil of Buffalo, NY.
| | |
| --- | --- |
| A view of Dance Floor and Blue Room | Social Room |
| | |
On Saturday the 17th of November, 1962 a fire occurred at the Clubhouse of the St. Bonaventure Golf Course. The fire took place after an IDA fraternity social and caused damage in excess of $5,000. According to officials the fire was caused by, "the overheating of a gas jet in a portable fireplace at the rear of the building." The University also decided that the Clubhouse would be torn down if the repair costs were too great. Fortunately, this was not necessary and plans were made for its renovation.
---
The Clubhouse was renovated in the 1970s and reopened on Sunday April 5th of 1976. The grand re-opening was by invitation only and was primarily for University members and guests. The open house was under the direction of Rev. Crispin Maguire, O.F.M. The opening had originally been scheduled for February 1st, but late supplies, such as tiles and curtains, delayed the opening.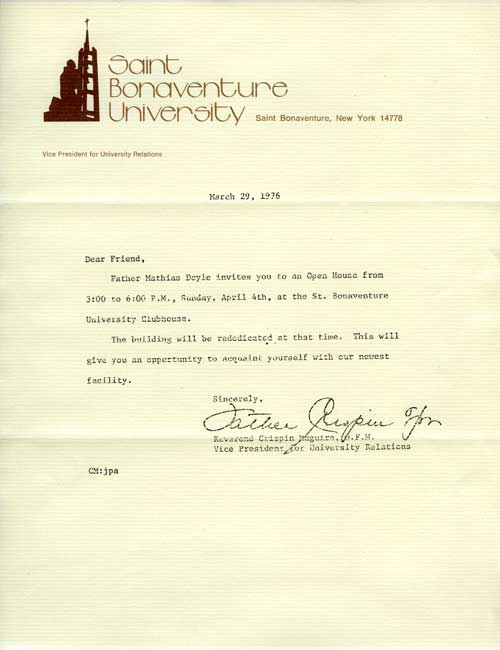 The Rededication invitation
for a full view click on the picture
The Clubhouse would open to the general public between the hours of 5 pm and 10 pm, Thursdays thru Saturdays, and open 1pm to 10pm on Sundays. Mondays, Tuesdays and Wednesdays were reserved for special luncheons and dinner parties. A lounge area was also opened with the hours of 5pm to 1am during the week and 5pm to 2am on Fridays.
The Clubhouse required, "appropriate attire for dining" and was under the management of Anthony Zampogna who was director of Food Services at the time.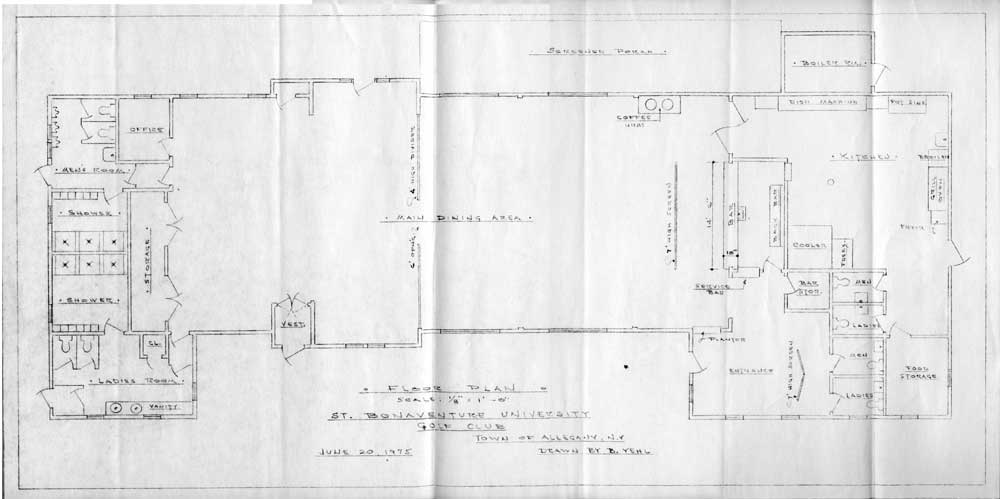 The plan for the Clubhouse renovation, for a larger view click on the picture
---
The Clubhouse Restaurant is still open today, and is very popular among the general public of Olean and Allegany and is still a popular site for banquets, luncheons, and parties. In the recent past the Clubhouse has been known for its "Seafood Buffet," which was discontinued in the the early 2000s.