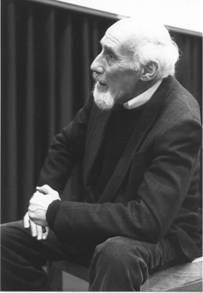 In the summer of 1985 Tom Schaeper, a member of the History Department at St. Bonaventure University, began a correspondence with Robert Lax to ask if he would write a review for the University's arts journal. The review was of a recent collection of letters by Thomas Merton to his
friends, in which Lax was conspicuously present, and that review appeared in the May issue of 1986 (Cithara 25:2). During this time Dr. Schaeper also asked Lax if he would be interested in setting up an archive of his papers at the University. He agreed, and began by sending correspondence and manuscript notebooks. When Lax came to campus in the fall of 1990, the archive was firmly established, and since then has continued to grow to become the largest repository of materials by and about Robert Lax to be found anywhere in the world.
Robert Lax (1915-2000) was born and died in Olean, NY, a small town adjoining St. Bonaventure University in the southwest corner of the state. Lax was as much a contemplative as he was a poet. The hallmarks of his style were simplicity of look & content, along with a deep spirituality that tended towards humor. Though he was born & raised in Olean, he traveled extensively, and for over 35 years lived in the natural surroundings of the Greek Islands of Kalymnos & Patmos. The list of Lax's published writings, and works based on those writings, runs to well over 500 items, ranging from single poems, to pamphlets & books, and includes graphic art, film, video, photography & performance art. He has at times been better known in Europe than America, and at least as well known in art circles as he has been in literary ones. His most prominent U.S. publications have been 33 Poems (New Directions 1988), Love Had a Compass (Grove 1996), A Thing That Is (Overlook 1997) and Circus Days & Nights (Overlook 2000).

Some people who have worked on the Lax materials in the archives at various times, and on this site: Michael P. Gabriel, Sarah Horowitz, Matthew M. Smith, Thomas J. Schaeper, Melissa Stiles, Ann Tenglund, Trevor Thompson and Daniel A. Weber. And a special thanks to Marcia Kelly, Constance Brothers and Richard Marcus.

Paul J. Spaeth
Curator of the Lax Archives
Director of the Library
St. Bonaventure University
Photograph credit: Edith Feuerstein Schrot