BONAVENTURE ALUMNI TELL THEIR STORIES
Page 4
A note from Fran Sheridan (1960), was accompanied by clippings, photographs, medals and his father's diploma from 1916:

Well, Here you are! I'm hacking the original Arbor Day tree planting photo. It appeared in the Fall 1996 "BonAlumnus," and a small class of '16 photo with everyone identified. ...
Fr. Frank Connors [below right] was dad's best friend at the seminary in Calicoon, NY.
Father Raphael Adams OFM (11/39 photo) taught my father Hebrew and Greek.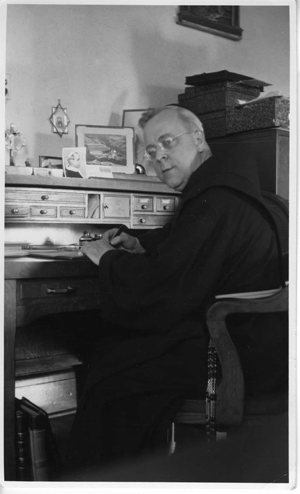 Buffalo Courier-Express photo, probably very late 40's, very early 50's. Dad was active in alumni affairs, was president of alumni association in 1934 or 1935(?). Note this is a football promotion for UB and Niagara by Bonamen. UB was never enthusiastic about ties with the "Little 3" (Bonas, Canisius, Niagara)
Juvenal Lalor OFM, President was a personal friend of my father and so sent him an invitation. The charter granted the college all the privileges of becoming a university, except one, which is reserved to the NYS Legislature, a medical school charter, which Bonas almost got-an interesting story in itself.
I'm also enclosing 3 WWI military registration cards...There were no exemptions, except for obvious mental/physical problems. Dad was never "called up."
I'm not sure if Cardinal Diomede Falconio, OFM himself presented the Christian Doctrine Medal (on the left).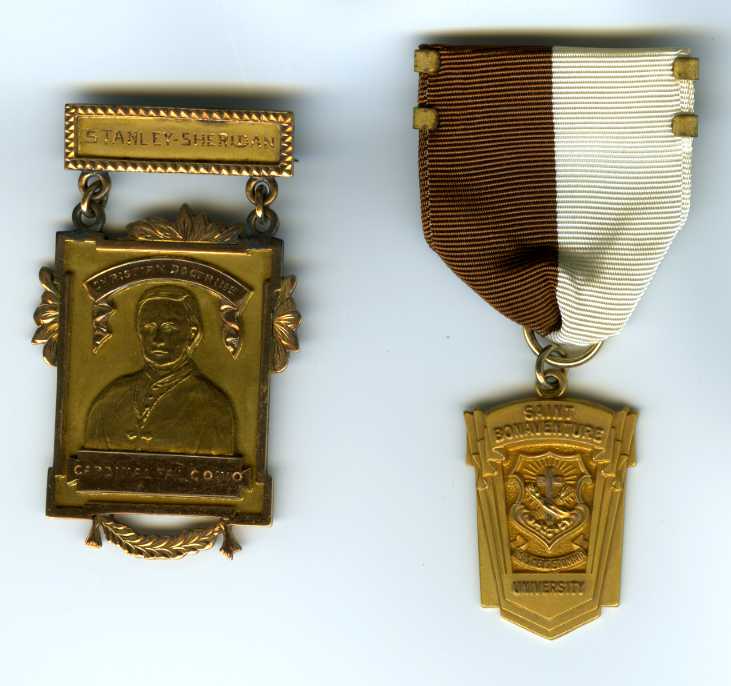 My own medal (right) for Greek is valuable only in that it shows the continuity of tradition. I was the only student (1957-60) whose father was an alumnus.
I would be pleased to know if all of this is of any value or pleasure.
Fran Sheridan

Last Updated: Friday, May 11, 2007