Townhouses

A view of the Village of St. Anthony, as seen from Francis Hall.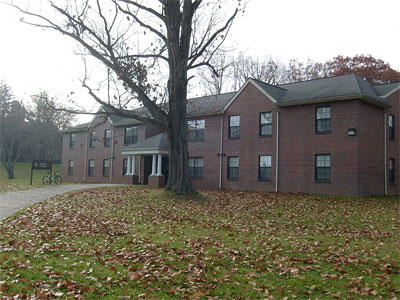 Shane House, located in the Glen of St. Clare, next to Francis Hall.
The Townhouse Apartments, usually known as the Townhouses, offer St. Bonaventure students an on-campus alternative to living in the old-style dormitories. Like the Garden Apartments, the Townhouses offer apartment-style living with the convenience of being on campus. Each Townhouse consists of eight apartments, a laundry room, and two common lounges. The apartments are designed to house four students apiece, and include four single bedrooms, one and one-half bathrooms, a kitchen, and a living area. There are 12 Townhouses in total, and they are broken into two separate groups: the Glen of St. Clare and the Village of St. Anthony.
Construction
| | |
| --- | --- |
| Phase I | |
| | The Townhouses were constructed in 3 phases. Phase I, begun in June 1994 and completed for the Fall semester of that year, consisted of the construction of 3 Townhouses (#13) to the east of Francis Hall (#11), part of what is now the Village of St. Anthony. |
Sophomores, Juniors, and Seniors are eligible to live in the Townhouses, although preference is given first to Seniors, then to Juniors. Room selection is carried out through a lottery system by which all on-campus housing is selected. The Townhouses are very popular among students due to the independence they offer on campus without the hassle and responsibilities that come with living off campus.
Site built by Ellen Winger during History 495 internship, Fall 2008.
Any changes, other than minor editing, are noted below.
Last Updated: 07 July 2010