Malcolm V.T. Wallace
Dr. Malcolm Vincent Timothy Wallace was a devoted student, teacher, archivist, and fan of St. Bonaventure University and all of its community. He followed St. Bonaventure sports with childish enthusiasm while being analytical as any coach or expert. He was especially interested in the football and basketball programs. He was so fascinated, he wrote books on the histories of them both. He was born October 3rd, 1915 in Pittsfield, Massachusetts and died September 20th, 2000. He married Kathryn Theresa Meyer June 5th, 1943. Together, he and Kate, gave birth to Michael William, Edmund Anthony, and Mary Clare.
Dr. Wallace received his bachelor of arts degree from St. Bonaventure in 1937. After which he spent a year studying sociology at Notre Dame. He had to take time off from his schooling in order to serve his country in World War II. Upon returning from Europe, he worked on his masters degree in education while taking some classics courses at the State University in New York of Buffalo. After receiving his masters degree in 1947, he went on to study at Harvard University where he acquired his PhD in classical philology in 1949.
Wallace spent 28 months between 1942 and 1945 in the European Theater during World War II. He served as a Personnel Officer and Adjutant for the United States Army's 23rd General Hospital. He held the rank of Lieutenant Colonel in the Army Reserves Medical Service Corps.
After his active duty in Europe and upon completing school, Dr. Wallace joined the St. Bonaventure faculty in July of 1950 as an instructor of the Classics. The following year, 1951, he was appointed a professor of the Classics and the head of the Classics Department. In 1977, he was chosen as St. Bonaventure University's Archivist. Through his hard work and dedication, he was able to organize St. Bonaventure's history and help make the Archives what it is today. He retired from teaching full-time in 1980, however he continued to teach at least one course each semester. During his teaching career, he contributed articles to various scholarly periodicals, and was a regular contributor of guest editorials to the Times Herald. He was a frequent writer for the Bonalumnus, a publication sent to St. Bonaventure alumni, and The Bona Venture, the university's student newspaper. In 1981, he was given the SBU Faculty Recognition Award for Teaching and on June 1st, 1991, he was awarded with the Recognition of Outstanding Services to the St. Bonaventure Athletic Hall of Fame.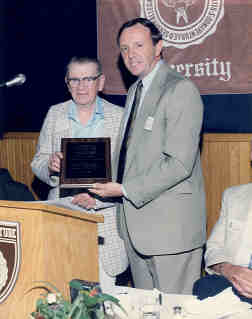 John K. Plumb presents Dr. Wallace with an
award for Recognition of Outstanding Services
to the St. Bonaventure Athletic Hall of Fame.
Dr. Wallace was an enthusiastic fan of St. Bonaventure athletics. He wrote a book on the history of the football team at St. Bonaventure entitled, And They Were Giants. His book was published by the Franciscan Institute and all proceeds went to the athletic department at St. Bonaventure. He also wrote about the 50th anniversary of St. Bonaventure's Varsity Basketball Team and that was in the winter of 1970. Heroes of the Hardwood, the St. Bonaventure Basketball book was his latest work in progress before his death.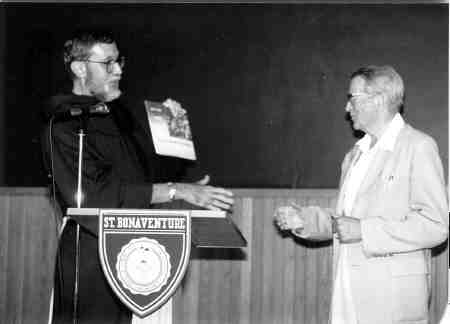 President Neil O'Connell, OFM, recognizes
Dr. Wallace at a ceremony introducing his book
"And They Were Giants"
Dr. Wallace was a member of a number of professional societies including the American Association of University Professors, The Virgil Society in England, the American Philological Association, the Classical Association of the Atlantic States, the Vergilian Society, and the Knights of Columbus. He was part of the Third Order of St. Francis; in September of 1993, Wallace rose to the first order of St. Francis. He also belonged to St. Bonaventure Parish in Allegany, New York.
Dr. Malcolm V.T. Wallace loved everything about St. Bonaventure. He devoted a good portion of his life giving back to the community that made him who he was. St. Bonaventure University is very grateful for his contributions with the students, the archives, and the athletic department. His determination and work ethic is a great example for all Bonaventure graduates to follow.

Dr. Wallace donated much of his personal library to the Friedsam Memorial Library. For a brief overview of his donation click here.
To view the archive's collection of Dr. Wallace's material click here.
Back to the Bona Biographies home page
______________________________________________________________________________________
This site was created by Christopher Dianetti, intern in the St. Bonaventure University Archives located in Friedsam Memorial Library during the spring 2006 semester.
Last updated: 30 August 2006